5th Croatian President Zoran Milanović is sworn in
The President of the Republic of Croatia as Supreme Commander of the Croatian Armed Forces Zoran Milanović inspects the formal line-up of the Honorary Battalion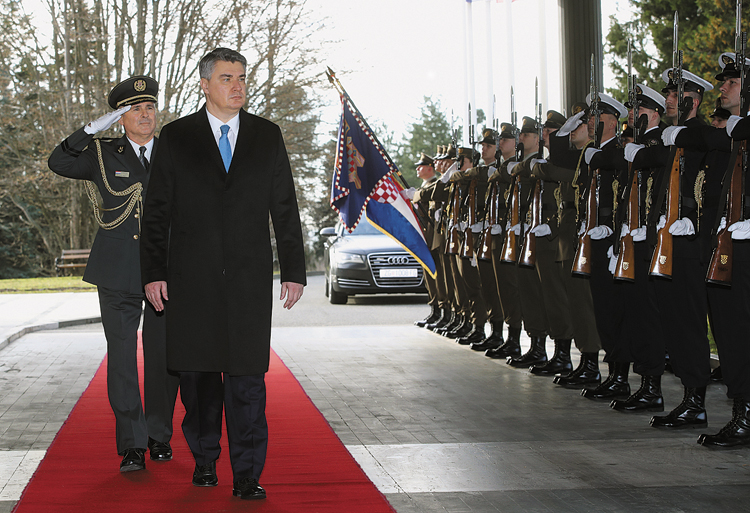 "In the domains of direct responsibility or shared responsibility of the President of the Republic, I intend to be a constructive, not a corrective factor; this in my view arises from the spirit of the Constitution. I pledge commitment to the defence and national security elements that create room for progress both in terms of professional achievements and education and in terms of transparency of these important and sensitive systems", said President Zoran Milanović in his inaugural address.
The 5th President of the Republic of Croatia Zoran Milanović took oath of office on 18 February 2020, in the presence of the Speaker of the Croatian Parliament Gordan Jandroković and Deputy Speakers, of the Prime Minister of the Republic of Croatia Andrej Plenković and of the deputy prime ministers, and closest relatives and associates. Following the oath-taking before the judges of the Constitutional Court, the new President delivered his first presidential address, pledging his utmost during his 5-year mandate for the benefit of Croatia and of all its citizens.
"My appreciation goes to my predecessors, elected by the Croatian citizens – President Tuđman, President Mesić, President Josipović and President Grabar-Kitarović, each of whom did their best in their own ways, but in good faith" said President Milanović.
The President claimed patriotism, unlike raw nationalism, entailed critical commitment and negation of exclusion..
"Patriotism entails lasting memory and gratitude to men, women and children who sacrified their lives and suffered for the freedom of Croatia in the Homeland War and in the antifascist struggle during World War II.
As regards foreign politics the President pledged he would focus on promoting co-operation and prosperity. "There is no doubt that there are way more points to build co-operation and and prosperity on than those that divide us both from our neighbours and from the rest of the world, even from the countries with whom we have most unsettled issues", he added.
"Our Republic needs every person and every person in Croatia must be given a chance to find their way and their place, to live in dignity from decent work. This is a home to us all, to us who live here and to the generations to come, as well as to those who are yet to return," said President Milanović.
The oath-taking ceremony was concluded with the handover of presidential duties between the new and the former presidents.