A U.S.- Croatian Convoy in Zagreb
The Tigrovi Battalion of the Guards Motorised Brigade and the 173 Airborne Brigade Combat Team of the U.S.Army held a joint static display in the "Croatia" Barracks in Zagreb on 30 October 2015. The display and the line-up of the members of the two Armies […]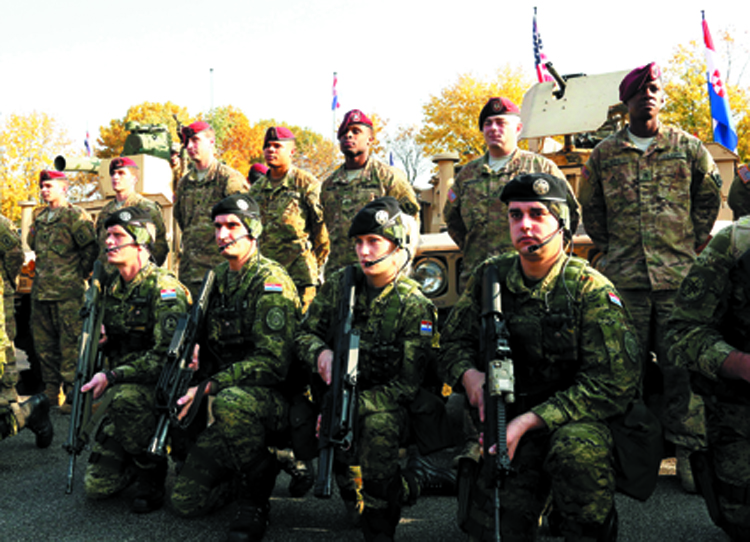 The Tigrovi Battalion of the Guards Motorised Brigade and the 173 Airborne Brigade Combat Team of the U.S.Army held a joint static display in the "Croatia" Barracks in Zagreb on 30 October 2015. The display and the line-up of the members of the two Armies was organised on the occasion of the passage of the 173 Airborne Brigade through Croatia and to emphasise the high-level defence co-operation, bilaterally and within NATO.
The display was visited by the Assistant Minister for Defence Policy, Zoran Drča, the U.S. Ambassador to the Republic of Croatia, Julieta Valls Noyes, Deputy Chief of the General Staff of the Croatian Armed Forces Lieutenant General Dragutin Repinc and the Director of the General  Staff of the Croatian Armed Force, Rear admiral Robert Hranj.
Assistant Minister Zoran Drča in his address emphasised the importance of the event as demonstrating the strong defence partnership between the U.S. and Croatia, the cohesion among the Alies and the solidarity within NATO as well as the interoperability of the U.S. and the Croatian armed forces.
Ambassador Valls Noyes praised Croatia as an important ally of the United States and pointed out that marches and other training activities facilitated joint endeavours towards secure and prosperous future. The Ambassador also underlined 70 activities and four lare scale exercises in which the members of the U.S. Army and the Croatia Armed Forces co-operated in 2015.
General Repinc stressed the importance of the joint activities at the tactical levels enabling the soldier to meet, talk and exchange the experience. "We hope that the members of the 173 air-Assault Landing Brigade Combat Team will also have the opportunity to train with the Croatian soldiers, either in the Training Range at Slunj or elsewhere in Croatia or abroad. . 
The 173 Airborne Brigade Combat Team took part in the activities of with the Allies and partners in east Europe, concluded with the drills with the Lithuanian armed forces within the Operation Atlantic Resolve. On its 2600-km long way towards the base in Vicenza, Italy in their HMMWVs the Team entered Croatia on 29 October and headed first towards the Predrag Matanović Barracks in Petrinja and then towards the Croatia Barracks in Zagreb, in a joint convoy with the members of the Guards Motorised Brigade, riding in Patria APC 8×8 and   MRAP vehicles, the M-ATV and MaxxPro vehicles.