Croatian Air Force flights and aircraft admired  in Airshow Čakovec 2018
The MiG -21  fighter  aircraft  the Canadair CL 415 and Air Tractor 802 aircraft and an attractive sequence by the "Wings of Storm" Aerobatic Group of the Croatian Air Force were the Croatian Air Force's representatives in the Airshow Čakovec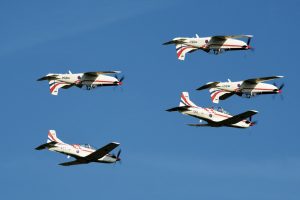 The MiG -21 fighter aircraft the Canadair CL 415 and Air Tractor 802 aircraft and an attractive sequence by the "Wings of Storm" Aerobatic Group of the Croatian Air Force were the Croatian Air Force's representatives in the Airshow Čakovec in Pribislavec (the Međimurje County) on 9-10 June 2018. The show was attended by the Assistant Defence Minister Roman Mikulić as Envoy of the Deputy Prime Minister and Defence Minister Damir Krstičević and by the Deputy Commander and Chief of Staff of the Croatian Air Force Colonel Michael Križanec. The Čakovec Air Show is a traditional event, organised by the Međimurje Air Club; This year it took place at Pribislavec on 9 and 10 June, with the objective to promote aviation among the youth and to continue the tradition of the Međumurje area. It was held under the auspices of the President of the Republic.
Assistant Minister Mikulić commended the event organisation, which certainly increased the interest of the young population in flying. "We are systematically working to strengthen the Croatian Air Force to be able to respond to any threat or risk and to be at the service of the people if need be; the interest to any threat or danger and be at the disposal of our people when it is most needed," Assistant Minister also underlined the recognised efforts towards aircraft modernisation and increased interest in the Military Aeronautics and Military Engineering studies programmes. The flying programme was opened by Zoltan Vereš, a celebrity in the aerobatic flights. The MiG-21 fighter aircraft , the Canadairs CL 415 and Air Tractors 802 and the eye-catching sequence by the ""Wings of Storm" Aerobatic Group presented the Croatian Air Force; other participants included the Austrian "Flying Bulls" with four aircraft (two Fairchild Dornier Alpha Jet, a Lockheed P-38 Lightning and Vought F4U Corsair) .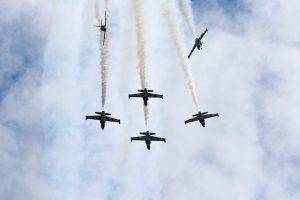 The performances by the UK "Raven" Team and Latvian "Baltic Bees" (six L-39C Albatros aircraft and a new sequence prepared on the occasion of the 10th anniversary of the Group thrilled the audience. The audience showed major interest in the aircraft models displayed and the military pilot education programme too. Among them were senior elementary school students, who talked to the pilots of the Croatian Air Force about the history of the service and of the military pilot career path. The students also familiarised with the programme of voluntary military service; the members of the legendary wartime 7th Guards Brigade also attended, in view of the prospective return of the unit of the Croatian Army to Varaždin. Most attention of the visitors was attracted by the computerised combat aircraft flight simulator, creating the experience of flying a fighter aircraft. The Ministry of Defence has attended higher education and training programmes fairs for years.