Croatian Female Soldiers in NATO's Enhanced Forward Presence in Poland
In the previous issues of CROMIL, we wrote about male members of the Croatian Armed Forces in NATO's Enhanced Forward Presence in Poland. On the occasion of International Women's Day, we bring a story about three female contingent members in this issue…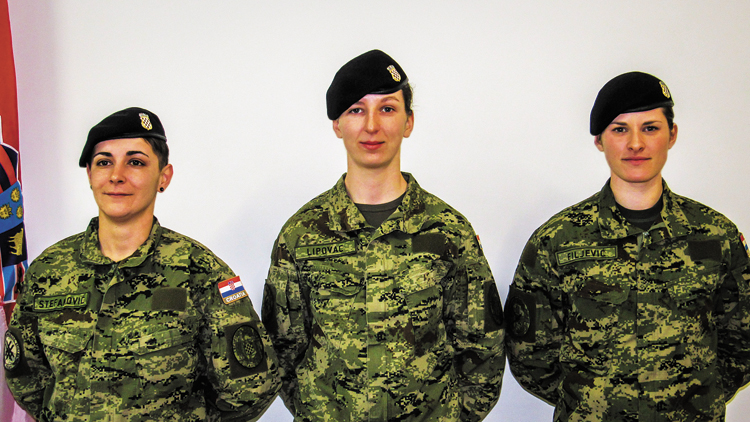 Since the Croatian Armed Forces have begun participating in international operations, female soldiers have regularly been deployed to offices abroad. One female officer and three female privates are currently a part of the 3rd Croatian Contingent in Battle Group Poland, which is led by the United States of America in NATO's Enhanced Forward Presence. Private Biljana Stefanović, Private Nikolina Filjević and Private Ivana Lipovac decided that they would participate in NATO's international activity in Poland early in their military careers.
At first glance, one might say that these three women have similar stories: each of them joined the military after secondary school and ended up in Poland. However, each of them has her own life story and different circumstances brought each of them to the military. The pleasure with which they do their job and their belief in a brighter future is the one thing that they have in common. Their youth and their broad worldview is what makes them typical 21st-century women. They are the members of a generation of young women that use their life and work to push the envelope and change the established role of a woman in the society. With their own example, they prove that the society has come close to true equality between men and women.
Biljana says that becoming a soldier has always been a part of her subconscious. After secondary school, she started studying Mechanical Engineering and worked at the same time in order to make a living. After several exhausting years of juggling her job and her studies, she applied for voluntary military service in order to make her long-time dream come true. Since the start of her military career, Biljana has been in the artillery, which she believes is the most complex part of the system. "I could not have made a better choice. I love being in the fire direction computer personnel. My job forces me to think and reach conclusions. There are many parameters that have to be precisely combined so that the desired objective could be reached." The support of her family made the decision to go to Poland an easy one. "It does not matter to me where I am so long as I am happy and doing what I like. My grandmother hopes a war does not occur, though," Biljana laughs. She emphasizes that she has never witnessed the division of jobs into male and female ones since joining the military: "We are all adults. We are equal. We have signed a contract that we want to do what we do and we are paid for that." For a while, she was the only woman in her battery, but even then she was never called out for being a woman. She says: "I do my job the way I am asked to do it and I achieve results above the required level in motor skills tests." When talking about the future, she says: "I see myself in the military. My wish is to participate in Leader Development Training and attain a rank. After that, the world is my oyster."
Nikolina's life and military story, including her motive to join the military, is a slightly different one. Her father, a participant in the Homeland War, played a key role in her formation as a self-confident, adult woman and a big patriot, as she likes to call herself. Her wish to be a part of the system that her father had helped create and to contribute to the security of her homeland led her to the position of a sightsetter on the M-92 Vulkan 12-mm self-propelled multiple rocket launcher. At the start of her career in the Mixed Artillery Battalion, she was appointed to the position of a gun loader. "My superiors assessed that I had the necessary qualities for a sightsetter, even though some said that it was a tricky job for a woman because it required pushing a 66-kg rocket. However, that does not pose a problem for me. I think I have settled into the job because I know that I can do it and I prove that on a daily basis. I am satisfied, but I know there is a lot more for me to learn. It seems to me that women have to work three times as hard as men to prove that they are capable of executing all tasks." Nikolina has successfully fought her way to her current job with four other male colleagues with whom she gets along well. They make a small family and Nikolina says she could not have been appointed to a better squad. She decided to go to Poland the second the opportunity presented itself. She stresses: "I do not mind the fact that the stay here is so long. I have made peace with it and am pleased with everything so far. I only lack options for recreation." Nikolina is an active woman. Her father roused her adventurous spirit by spending time with her outdoors and doing sports. Today, she most often recreates by running. She has participated in three military cross country running competitions and achieved excellent results that she always strives for. "I am not one of those for whom the most important thing is to take part. If I am competing, then I want to achieve a good result." She is vigorously contemplating her plans for the future. The wish to advance in her professional military career is intertwined with her wish to start a family. She is determined to make both wishes come true.
Unlike Biljana and Nikolina, Ivana did not consider a military career until the end of secondary school. She only knew that she wanted a dynamic job. One day, the promotional team of the Croatian Armed Forces and the Ministry of Defence came to her school to present the options of joining the military and receiving a military education. After a period of contemplation, she told her parents that she wanted to try out for the military. Her mother was so shocked that she dropped a spoon, while her father said: "Try it. If you like the job, stick to it." Ivana's first choice of studies was Military Leadership and Management at the Croatian Defence Academy, but she was 20 seconds away from achieving the minimum result in the 3200-metre qualifying run. In spite of that, she did not give up. She trained even harder than before in order to prove to herself that she can do it. She successfully completed voluntary military training and specialized training and passed the trial period in her unit. All of that led her to the 3rd Croatian Contingent in Poland, where she is yet another female sightsetter on the Vulkan. Although the job is physically demanding, Ivana says: "I try hard that people do not notice a difference just because I am a woman. I try to do my job on my own. I give it my all in order to achieve what is expected of me. It feels great to succeed. My colleagues in the squad are great. We have been together for two years and are good friends. We are there for one another and I have never felt that I was being treated differently because I am a woman," Ivana says and happily notices that women are bolder than before: "More and more women are joining the army. I hope there will be more of us in the future." When asked for her plans after her return from Poland, Ivana answers: "Just like in everything else, I am letting my heart guide me. I definitely want to stay in the military. I would like to enrol into university, continue my education and advance in my professional career."
---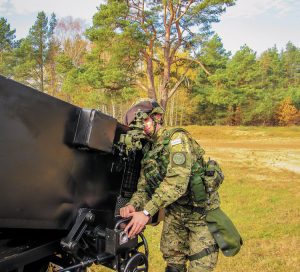 NATO's Battle Group Poland is located in Base Bemowo Piskie in north-eastern Poland. The 3rd Croatian Contingent in Enhanced Forward Presence (eFP) is one of four components of the battle group which is added to the Polish 15th Mechanized Brigade from Giżycko. Together with the members of American, British and Romanian armed forces, they conduct trainings and exercises on a daily basis so as to increase operability among allies. Battle Group Poland is comprised of 1200 soldiers, most of whom are members of the U.S. Armed Forces. Americans are also the leading nation within BGP. A component of the 3rd Croatian Contingent in eFPBG-USA within the battle group known as the Hedgehog Battery is made up of 76 male soldiers ad four female soldiers.
---
Text and photo by MIRNA BAJČETIĆ ŠIJANSKI, PUBLIC RELATIONS OFFICER OF 3rd CROATIAN CONTINGENT IN eFPBG-USA
Translation by IVA GUGO