Minister Kotromanović meets with the USAREUR Commanding General
The Croatian Defence Minister, Ante Kotromanović and the Chief of the GeneralStaff of the Croatian Armed Forces, General Drago Lovrić welcomed the USAREUR Commanding General, Lieutenant General Frederick Ben Hodges, who is visiting the countries in the EUCOM's/USAREUR's area of responsibility. Minister Kotromanović stressed the […]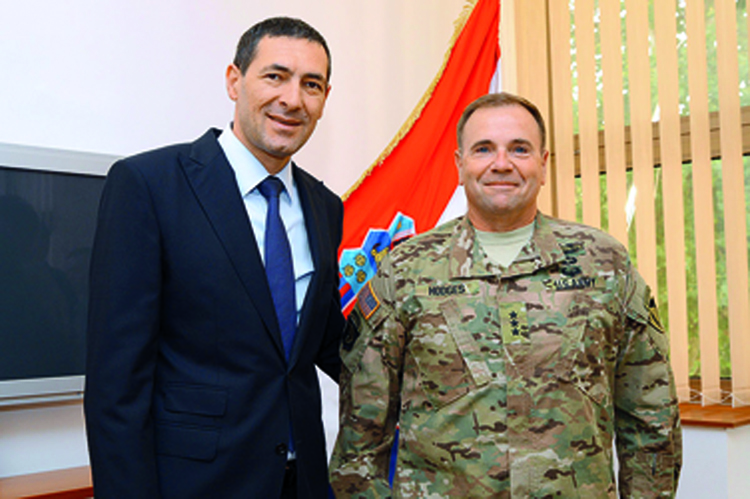 The Croatian Defence Minister, Ante Kotromanović and the Chief of the GeneralStaff of the Croatian Armed Forces, General Drago Lovrić welcomed the USAREUR Commanding General, Lieutenant General Frederick Ben Hodges, who is visiting the countries in the EUCOM's/USAREUR's area of responsibility.
Minister Kotromanović stressed the United States as Croatia's main partner in security and defence, and expressed interest in continuation and expansion of the bilateral defence co-operation.
Maintaining the actual level of capabilities and interoperability acquired during the deployment in Afghanistan is a primary objective, said the Minister; it is underpinned by the training and joint exercises, and the Exercise Immediate Response is a model of co-operation to follow.
Lieutenant General Hodges expressed satisfaction over the visit and commended Croatia as a capable, efficient and credible partner to the U.S. .
"Croatia's geostrategic position makes it an important country, enhanced by its status of a  leading stability contributor in this part of Europe. The Croatian and the American soldiers served in Afghanistan side-by-side, and continue to do so in the Resolute Support mission", stated Lt.Gen. Hodges.
General Lovrić underlined that the USA was Croatia's main Ally in defence and security and a strategic partner of its Armed Forces, with whom they conducted a series of training and other activities. Over a 1000 Croatian soldiers followed a training in the United States, which remains a co-operation priority along with joint exercises in Croatia.
General Lovrić emphasised the importance of the stability of the region and in Southeast Europe, and enhancement of co-operation within the A-5 as one of the most important initiatives.
The two sides supported the EUCOM' and USAREUR's proposal for Croatia and Slovenia's  continued co-hosting of the Exercise Joint Response in the period from 2017.
Lt. Gen. Hodges is to visit the training ranges near Slunj and Udbina, to explore the future possibilities of the Combat Training Centre and the Simulation Centre in the Eugen Kvaternik Training Range, as a location of joint training events and exercises  with the U.S. soldiers.