Minister Krstičević delivers lecture for cadets of Croatian Defence Academy
The Minister presented the current situation in the Croatian Armed Forces,  the achievements over the past three years and the envisaged further development required to be ready to respond to new challenges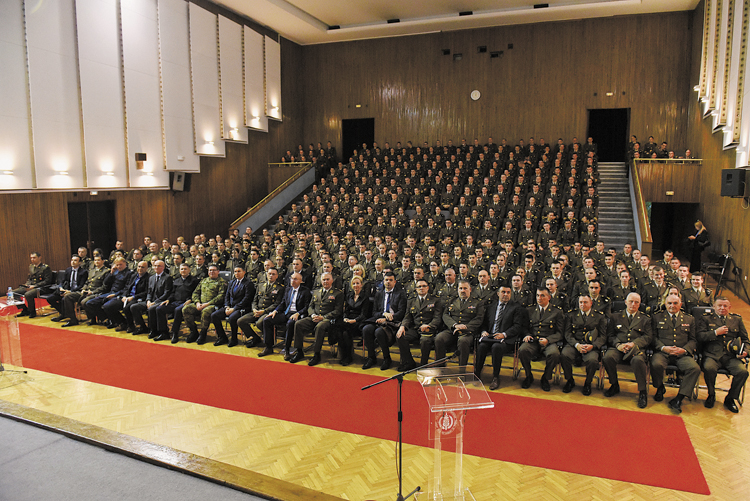 The Croatian Deputy Prime Minister and Defence Minister Damir Krstičević delivered a lecture "Leadership in the Croatian Armed Forces" for the cadets of the Croatian Defence Academy "Dr. Franjo Tuđman "in Zagreb on 19 November 2019. The lecture was video-streamed for the cadets of the Maritime Studies in Split.
The Minister presented the current situation in the Croatian Armed Forces, the achievements over the past three years and the envisaged further development required to be ready to respond to new challenges.
The human resources are the core of the defence system, and motivated and persistent soldiers, committed to his homeland and family are invincible. The success of any organisation depends on selection and development of candidates. True leaders possess a refined sense for selection and growth of potential leaders.
The Minister also said future commanders are individuals with courage, knowledge and abilities. They need to believe in their teams, motivate them and create positive work environments, all of which benefits the development of future leaders and enable them to assume the responsibility for their decisions.
The Minister also said the Croatian Armed Forces needed to continue to develop as an integral part of the Croatian society and a respectable institution capable of fulfilling the present and future tasks
"It is our goal for the future of modern Croatian Armed Forces, as a guarantor of stability and stability of the Republic of Croatia. Investing in the knowledge, training and capacity development of its members is of foremost importance", said the Minister.
Drawing on the lessons learned and his own experience of a commander in the Homeland War and of a businessman and a politician, the Minister called on the cadets: "Be the leaders who will lead by their own example and make right decisions, minimising the effect of negative facts".
Doris RAVLIĆ, photo: Mladen Čobanović