Second Rocket Firing of 3rd Croatian Contingent in Poland
The members of the 3rd Croatian Contingent in NATO's Enhanced Forward Presence have conducted the second rocket firing in daytime and night-time conditions from the 122mm Vulkan M92 self-propelled multiple rocket launcher. The firing was conducted as a part of the final tactical exercise at the end of the battery training and evaluation process on the level of Battle Group Poland, which includes the 3rd Croatian Contingent…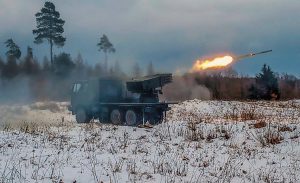 The members of the 3rd Croatian Contingent in NATO's Enhanced Forward Presence have conducted the second rocket firing in daytime and night-time conditions from the 122mm Vulkan M92 self-propelled multiple rocket launcher in training ranges for artillery firing "Bemowo Piskie", "Gaudinek" and "Sosna".
The firing was conducted as a part of the final tactical exercise at the end of the battery training and evaluation process on the level of Battle Group Poland (Operation Raider Thunder), which includes the 3rd Croatian Contingent.
The objective of the exercise was to test the trainedness of manoeuvre companies and mixed-artillery batteries as well as to increase the interoperability of all components of BGP. The joint live-fire exercise therefore prepared the whole battle group for the upcoming evaluation.
The Commander of the 3rd Croatian Contingent Captain Željko Trček, who is also the Commander of the Self-Propelled Multiple Rocket Launcher Battery said upon the conclusion of the exercise: "I am extremely pleased with the firing that has been conducted today. During the exercise, we provided fire support to the units of the Battle Group in their manoeuvres. That was also our first night-time firing in the area of operation. We are quite impressed." Since all tasks so far have been conducted completely in accordance with the plan, Captain Trček believes that further exercises with our allies will be equally successful.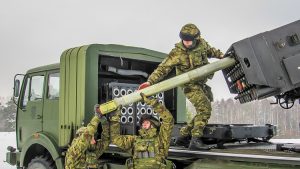 In North-east Poland, the members of the Croatian Armed Forces are participating in peacekeeping activities defined as activities aimed at increasing and maintaining NATO's readiness as well as supporting the strengthening of the security of the Alliance and its member countries. The activities are first and foremost devised at joint exercises with the objective of increasing interoperability. The Croatian soldiers are conducting joint and individual trainings with the United States Armed Forces (the leader of BGP), the Romanian Armed Forces and the British Armed Forces.
Text and photo by PUBLIC AFFAIRS OFFICER OF 3RD CROATIAN CONTINGENT IN eFPBG-USA
Translation by IVA GUGO