Send off for 4th HRVCON to NATO-led Operation "Sea Guardian"
The formal send-off for 4th HRVCON sent off to NATO-led Operation "Sea Guardian", held in the Barracks "Admiral Sveto Letica-Barba" in Split on 11 March 2021 was attended by Chief of Staff of the Croatian Armed Forces Admiral Robert Hranj, by the Medical Advisor to the Chief of General Staff Major General Boris Zdilar and by the Commander of the General Staff Operations Command Brigadier General Ivan Turkalj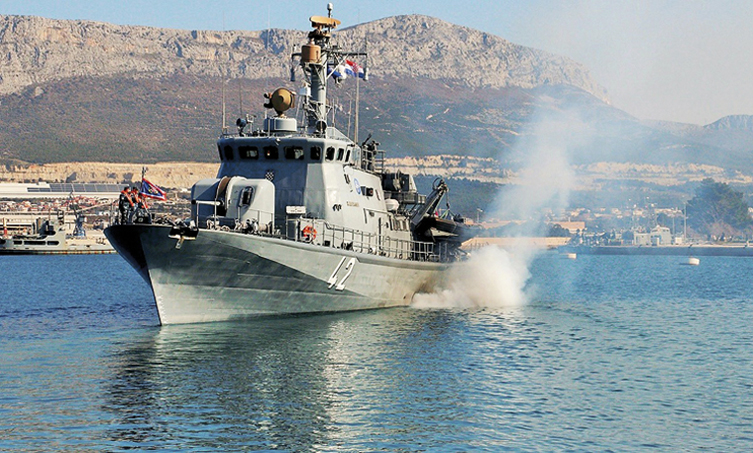 Admiral Hranj in his address emphasised that the Croatian Armed Forces continuously displayed the show that the Croatian soldiers were reliable allies and partners: "This will be an opportunity for you to prove your individual competences and to affirm the reputation of the Croatian soldiers and naval personnel with the allies and partners". Admiral also warned the members of the 4th HRVCON of the many challenges they would face, in response to which will be expected to display superior naval skills, tactical expertise and thoughtful action. "I am convinced that your performance will be rated good, but also bear in mind that you need to protect the ship, the systems, and most importantly – to protect each other, because your safety is of paramount importance", said Admiral Hranj.
Delivering a brief overview of the contingent's pre-deployment training successfully completed despite the specific circumstances of the current pandemic, the Commander of the Croatian Navy Rear Admiral Ivo Raffanelli commended the Contingent members for the efforts they made during the pre-deployment training. "The Croatian Navy missile boat in the Mediterranean again, the Croatian contingent in the "Sea Guardian" operation again are Croatian continued contribution to the unity of NATO member nations".
The Commander of the 4th HRVCON, Corvette Captain Nikola Kuvačić, pointed out: "I believe that this Contingent will successfully execute the mission of support to maritime situational awareness to enhanced collective security, uphold freedom of navigation and also further enhancing the relations with NATO partners. It requires commitment, professionalism and sacrifice from all crew members, to exercise the mission the best way possible and return safely home".
Common security
The Croatian contingent will join NATO forces from 12 to 29 March 2021 in the operation "FOCUS OPERATION-2" (FOCOPS-2) through maritime situational picture in order to provide common security in the central Mediterranean. The Commander of the 4th HRVCON is the Lieutenant Commander Nikola Kuvačić, and the Commander of the Missile Boat "Dubrovnik" is Lieutenant (N) Ivan Bosančić. The Contingent is composed of 32 members, 30 members of the Croatian Navy, one member of the Intelligence Regiment and one member of the Support Command respectively.
The missile boat RTOP-42 "Dubrovnik" of the Helsinki Class belongs to the Croatian Navy Fleet.
The boat is 45 m long, with an 8.9- m beam, and the speed of 28 knots. Its purpose is to launch missile strikes on enemy ships and artillery action on targets in the air, at sea and on land. It is fitted with eight RB-15B anti-ship missiles, a 57-mm Bofors Mk1 naval artillery gun and two SAKO ZU 23- mm stern anti-aircraft guns. It is also equipped with two PKT rifles for close protection. This is the third engagement in the Operation "Sea Guardian"; in which it was designated as flagship in September 2020. The Boat was also engaged in a number of international military exercises in Italy, Montenegro and Albania.