The seventh edition of the air show was held at a former air base of the Swiss Air Force in Mollis from the 15th to 18th August. The Croatian Air Force Display Team "Wings of Storm" performed a well-received display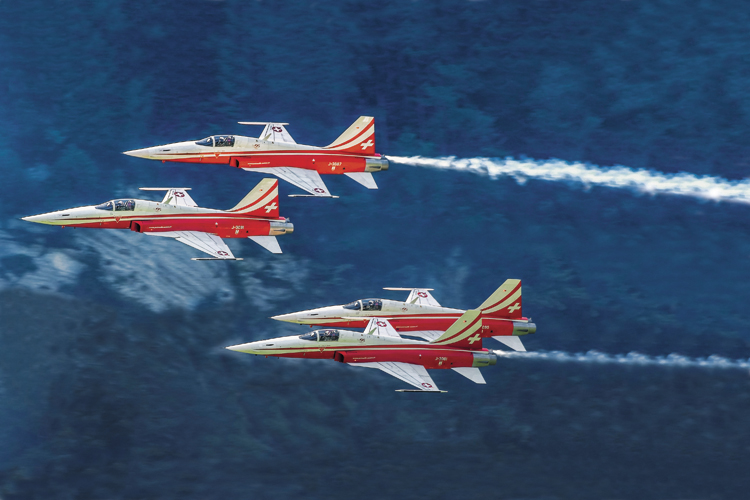 Mollis Air Base is situated near an eponymous village in north-east Switzerland. As a home to a squadron of de Havilland Vampire, Hawker Hunter and Northrop F-5 fighter aircraft, it was active until the end of the last century. Afterwards, Eurocopter AS332 Super Puma helicopters were accommodated there. Today, it is a sport airfield serving exclusively as a base for search-and-rescue helicopters belonging to a private, not-for-profit rescue service REGA. Although announced as "the ultimate Swiss air show", Zigermeet is a relatively small civilian event that can hardly compare to large military air shows such as AIR14 in Payerne, where the "Wings of Storm" made their debut in front of the Swiss audience in 2014.
Flying Programme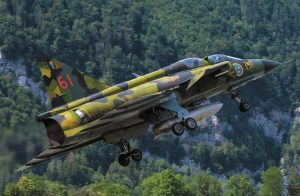 Unlike AIR14, a predominantly military air show with a large number of participating display teams and over 400,000 visitors, Zigermeet is a small air show with significantly fewer military participants and modest 30,000 visitors. However, the Swiss Air Force showed their support for the event by taking part in the flying programme with their fighter aircraft. Likewise, it was easily discernible that the Sswiss are in the process of procuring fighter aircraft that will replace the Northrop F-5E Tiger II and later McDonnell Douglas F/A-18 Hornet aircraft. Visitors could tour stands belonging to U.S. companies Lockheed Martin (offering F-35 Lightning II aircraft) and Boeing (offering modernised McDonnell Douglas F/A-18 Hornet aircraft), Swish company Saab (offering JAS 39 Gripen E aircraft, but they are supposedly out of the running) and French company Dassault (offering Rafale aircraft). The Croatian military pilots' Swiss colleagues continued their tradition of taking part in the air show by performing a display on Northrop F-5E Tiger II fighter-bombers. Participants also included two civilian display teams: Latvia's Baltic Bees on Aero L-39 Albatros trainer aircraft and the Czech Republic's Flying Bulls on unique XtremeAir XA42 aerobatic monoplanes. During solo displays, France's Rafale Solo Display and Switzerland's McDonnell Douglas F/A-18 Hornet aircraft customarily drew the largest audience. Beside them, spectators could also enjoy solo displays by Sweden's Gripen and Germany's Eurofighter Typhoon aircraft. Displays by older variants of Hawker Hunter and Saab 37 Viggen fighter aircraft also attracted much attention. The exhibition area was dominated by the German Air Force's Airbus A400M Atlas aircraft, but the spectators were also drawn to mock-ups of F-35 Lightning II and Eurofighter Typhoon aircraft. Although listed as an exhibit, the 91st Air Base's Mil Mi-171Sh helicopter was parked on the part of the runway designated for aircraft taking part in the flying programme and was therefore out of the spectators' reach.
Memorable Indeed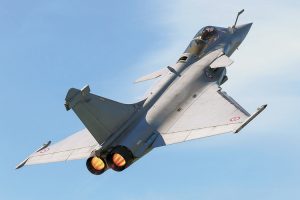 Looking at the number of participants and spectators, Zigermeet 19 does not rate among the most prestigious air shows at which the "Wings of Storm" have performed, but it was memorable indeed. The airfield is inside a gorge, which made the arrival there a challenge. The airfield in Mollis is not equipped for accurate approaching and landing. In cloudy weather, one has to abide a procedure that involves conducting an instrument approach procedure to the sixty-kilometre remote Emmen Military Air Base, flying low under the cloud base and broaching between mountain peaks and above lakes towards Mollis. Luckily, clouds were not very compact and Croatia's display team succeed in executing a contact landing at Mollis, where new challenges awaited them. That day, the sport airfield was working like any other day, with aircraft separating and organizing themselves in the air; an air traffic control for the air show was set up the following day. It was quite a challenge for the seven aircraft belonging to the "Wings of Storm" to land safely while several other aircraft and helicopters tried to land at the airfield – all in a kilometre wide gorge!
Congratulations from Croats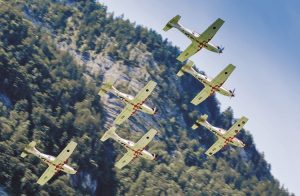 The aforementioned width of the gorge presented the largest challenge to the "Wings of Storm", who had to figure out how to safely and properly perform the part of their display that could even be performed at such a location. Days prior to their performance in Switzerland, they had practised a shorter display adjusted to the configuration of the terrain in Mollis. In spite of severe spatial limitations, they were able to present the majority of their most attractive manoeuvres to the spectators. It is therefore no surprise that the spectators approached the pilots from the "Wings of Storm" and congratulated them on their performance. Croats living and working in Switzerland were particularly proud. Although the forecast was not optimistic, the weather on both days of the air show was perfect, so that yet another edition of Zigermeet concluded with satisfaction on both the spectators' and participants' part. The next performance by the "Wings of Storm" in Switzerland is expected to take place in 2024, when the world's most renowned display teams will assemble at the prestigious air show in Payerne.
Text by DAMIR BARIŠIĆ
Photo by MICK BALTER
Translation by IVA GUGO