"Athletes have to display exemplary conduct"
Top athletes who are also contract reservists of the Croatian Armed Forces, in the interview for the "Hrvatski vojnik" magazine described their new daily routines far from the training grounds and arenas that have been imposed by the pandemic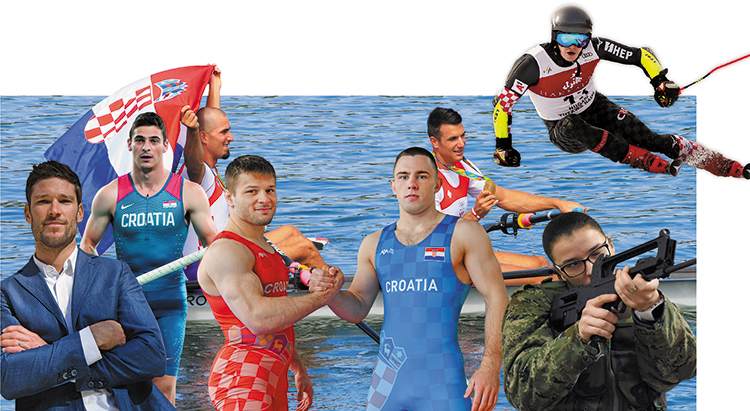 Top athletes who are also contract reservists of the Armed Forces of the Republic of Croatia, in the interview for the "Hrvatski vojnik" magazine described their new daily routines far from the training grounds and arenas that have been imposed by the pandemic.
The reality caught us surprised and forced us to accept new rules. Athletes were not an exception. Many of them have suspended preparations for the biggest world and European competitions scheduled for the spring and summer. It also destroyed some athletes' dreams of winning the trophies. Nearly all competitions have been cancelled, the Olympic Games included. They have been rescheduled for 2021, as the only reasonable solution.
Instead of competing in sports grounds the athletes are experiencing a most unusual situation being forced to train at home, separated and distant from each other.
Some of the most successful Croatian athletes, celebrated Olympic medallists and contract reservists of the Croatian Armed Forces, shared their coping strategies and routines.
The famous Croatian rower and multiple world and Olympic champion Valent Sinković shared his experience:
"We have received ergometers, which we train at home every day. We prepare, keep fit and follow the news. We've now been out of outdoor training for weeks without water training for a few weeks now. This is a situation we have in the winter, so it's not something we haven't done before, but this time of year it's unusual because we have competitions, water training and preparations.
This is a new situation for all of us, something we did not expect, but we must be positive and follow the instructions given by the Civil Defence Staff so that we can all overcome the crisis together. We are still preparing as usual for the Olympic Games which will be held next year. The biggest problem is that we don't know when this will end and for which competition to prepare".
Taekwondoists share the same fate under the COVID-19 pandemic. The Croatian national team member and twice the European champion Iva Radoš shared with us the everyday life of the champion:
"I train at home in a small gym in the basement. I can't do sparring drills, but I can work out. I have a brother and sister who also trained in taekwondo and they assist me, holding mitts and are there for me; it means a lot to me".
We learned about Iva's extraordinary situation routine and what she is missing.
"We have spent a month time without training and I miss the sports hall and the overall atmosphere, I miss the coach to guide us. I miss the everyday things. It is strange for me to stay at home, but I will make through it. I train all days and assist my brother with the online learning, and also do the household chores and I cannot complain. I am in daily contact with colleagues from the national team and coaches and we are waiting for the crisis to resolve. I really hope this ends quickly and that we will be back in the halls as soon as possible".
Wrestlers Dominik Etlinger and Antonio Kamenjašević of the Croatian national team had to suspend preparations for the qualifications for the Olympics.
"The situation is difficult for us athletes too as for the people in Croatia. But we athletes are going to recover and regain our shape. The hardest is for the people who lost jobs and income, and we have to show solidarity with them".
On the sport side, we have had to suspend our preparations for the Olympic qualification, late in the cycle – we have almost concluded the preparations and we awaited the competitions. However, the competitions were cancelled and delayed, without any certainty as to the new date. I just hope they will resume soon".
Dominik also said that the present situation is not too different from the preparations for major competitions.
"I am used to quarantines. They are a normal situation for us. We are dedicated to the training. It is somewhat different as we are not really wrestling but I work out to stay fit, using the ergometer, weights and other equipment. Luckily, I have the space for training and work on physical condition and not on specificities.
"The situation is definitely difficult, both for us athletes, but also for all residents of the Republic of Croatia. We will still somehow recover, we will get in shape. It is most difficult for people who have lost their jobs and their income, they are the ones who find this situation especially difficult and we have to think about them.
Antonio Kamenjašević also found himself in an odd situation, and when asked what his day looked like, he answered that it was fulfilled:
"I practice with my younger brother and a sister who I help with in the morning. I live in the countryside so I have space around the house for jogging and fitness exercises. We also have a garden and I help with the spring gardening works. The suspension occured just at the moment I recovered from an abdominal muscle injury, and resumed training. The problem is the uncertainty about the competitions timeline, and we do not even know what the preparations will be and how much time we will have. But I believe everything will end all right. One has to be optimistic in this situation".
Ivan Horvat, an athlete and Croatian pole vault record holder, feels the same: "This is definitely an unusual situation. I completed my preparations, like the rest of athletes, and then everything stopped. We have no information when we might resume our activities, and in the meantime I am doing what I can. I cannot do the essential – pole vault drills and preparation, but I can work to maintain my physical fitness to the extent possible, using weights. My fiancée and I have taken the situation seriously and stick to the recommendations from the National Civil Defence headquarters. The athletes need to display exemplary conduct. Time goes by quickly trying new hobbies; I am learning to play bass guitar. We feel good and I hope it remains so".
For Filip Zubčić the crisis came amidst the competitions for the Small Crystal Globe trophy in giant slalom. Unfortunately, the last two races have been cancelled and Filip had to abandon running for his biggest success so far. Nevertheless, Filip stressed that he was satisfied with the past season, and he also said what his new routine lookeds like.
"Unfortunately, the last two races have been cancelled. I was in good shape, but what can one do. The third ranking in giant slalom is a great achievement and I am glad. The season was great and exciting and and it is a pity it had to conclude in this way.
I train at home, I can work out. At this time of year we are still at snow, training and preparing, and Istok Rodeš and I spend spring and summer doing physical training".
Šime Fantela, one of the greatest Croatian yachtsmen and a gold Olympic medallist self-isolated following a competition in Spain; the life came to a standstill for him as for everybody else as yachting competitions have been suspended. Although they don't come into close contact, yachtsmen are temporarily unable to train.
"We attended a competition in Spain, which was at the time earmarked as a country of risk, and on return I decided to self-isolate for two weeks although I was not ill or developed any symptoms. I acted responsibly towards myself and towards other people. The time in isolation passed quickly, you need to follow a routine. I turned to the activities for which I had no time before – I analysed my performances, watched maps. I also prepared lunch, trained at home and time just slipped away".
For Filip and his colleague Dominik Etlinger isolation is not a problem.
"It is nothing extraordinary for us athletes. We are used to the schedule. Our routine is training twice a day as before the pandemic. We rarely go out, and we don't spend time in bars, so this is nothing too weird for us. What I do miss are slopes, glaciers and skis", says Filip.
Šime addressed the cancellation of the 2020 Olympic Games. Alongside his younger brother Mihovil, a contract reservist of the Croatian Armed Forces, he now competes in the 49er Class. He also described his routine after ending self-isolation.
"It will not disrupt our plans and preparations much. The 49er is a relatively new class for us so we will have more time to train. Sailing is a specific sport. We are not used to stay indoors, we spend all our time at sea and this is an unusual situation for us. But I don't sit still, I try to stay fit. Mihovil and I practice on the yachts, we stick to the recommendations and we believe this will be over soon and we shall go back to our normal routine", said Šime Fantela.
Author: Ivan Šurbek
Croatian Version: