Wings of Storm to display new manoeuvres
The Aerobatic Team "Wings of Storm" commenced rehearsing its flying for the current year to be presented in May. As announced, it will be a step forward in the evolution of the team, whose skills have been admired by millions of spectators.  The Aerobatic Team […]
The Aerobatic Team "Wings of Storm" commenced rehearsing its flying for the current year to be presented in May. As announced, it will be a step forward in the evolution of the team, whose skills have been admired by millions of spectators. 
The Aerobatic Team "Wings of Storm" of the Fixed – Wing Squadron of the 93rd Air Base of the Croatian Air Force and Air Defence has commenced preparing for their performances in the current year. 
The team composition remains the same as in 2015 – Lieutenant Colonel Damir Damir Barisic, Team Leader (also Deputy Commander of the Fixed-Wing Squadron); Captain Ivan Anđić, 1st Left Wing; 1st Lieutenant Goran Grgić 1st Right Wing, 1st Lieutenant Darko Belančić, Slot, 1st Lieutenant Denis Živaljić, 2nd Left Wing and  Captain Zvonimir Mravunac, 2nd Right Wing.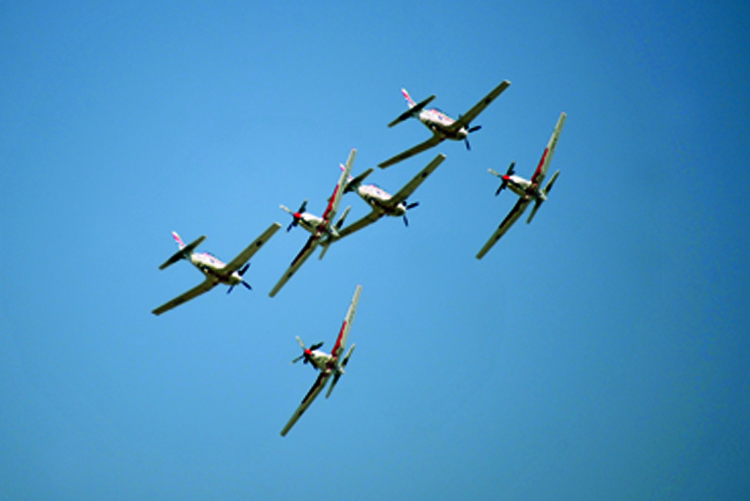 The Team is entering its twelfth season in the same composition we performed in last year, when we had to prepare five new members within two months. Our new members have demostrated the required motivation and competence, and I am very satisfied over the performances in the past season", said Lt. Col. Barišić, the Team Leader. ,
"The line-up to which was presented last year when we were in a short time, in just two months, the performance of the group should train five new members. They showed motivation and quality and I am very satisfied with what we did in the previous season," he told us the leader of the "Wings of Storm".
Regarding the programme of performances for the current year, Lt Col. Barišić announced a new manoeuvre – the 2.5-roll spin in formation – which is performed by few aerobatic groups in the world, by a single aircraft (as the Wings of Storm performed themselves in their first shows); they are now rehearshing it in formation. The spin is a regular element of the presentation of flying skills in air shows, but the performance by a narrow formation of 2 to air aircraft is guaranteed to pull the crowds and complement the already attractive programme of the internationally renowned Croatian aerobatic team. "We wanted to come up with a new manouevre, a new quality step in this composition", says Lt. Col. Barišić.  
The Team is to train a new member, Captain Miroslav Penica, later this year, to take the place of 1st Wing in the Team. In the season 2016 the Team will honour various Armed Forces manifestations but also civilian air shows and other events as part of the Ministry of Defence's promotional activities. In the past 11 official seasons since their establishment the "Wings of Storm" have logged 116 public performances (42 abroad, in 13 European countries).