B-52 bomber overflies Croatia within "Allied Sky"
The Republic of Croatia took part in the joint NATO activity "Allied Sky", featuring an overflight by six U. S. B-52 bombers over the territories of all NATO member nations in North America and Europe in a single day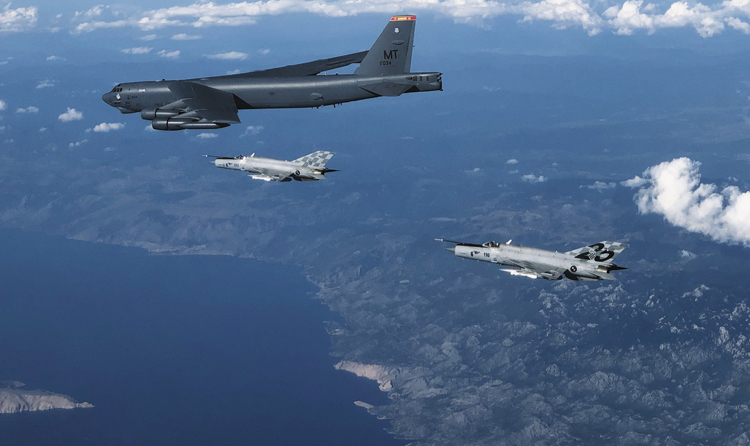 The Republic of Croatia took part in the joint NATO activity "Allied Sky", featuring an overflight by six U. S. B-52 bombers over the territories of all NATO member nations in North America and Europe in a single day. During the overflight over Croatia the bombers were accompanied by MiG-21 aircraft of the 191st Fighter Squadron of the Croatian Air Force…
Within NATO's joint activity "Allied Sky" activity, six US B-52 aircraft overflew the territories of all NATO member countries in North America and Europe in a single day on 28 August 2020. The Republic of Croatia joined the activity along with 19 Allies.
The bombers were accompanied by the aircraft of the Allies, each in its own national airspace, sending a message of NATO strength and solidarity. It was also an opportunity to boost Allies capabilities through joint training and participation in future international missions. NATO Secretary-General Jens Stoltenberg said: "NATO's joint training events of the kind help ensure that we fulfil our core mission: to deter aggression, prevent conflict, and preserve peace"
During the overflight over Croatia, the American bomber was accompanied by MiG-21 aircraft of the 191st Fighter Aircraft Squadron of the 91st Wing of the Croatian Air Force. Members of the Air Space Surveillance and Control Battalion were also engaged, and their professional support contributed to the successful completion of the activity of the activity, which served as an excellent opportunity for joint training and practice.
The U.S. Bomber B-52 entered the Croatian national air space in the zone of Dubrovnik at 16:14, and continued flying towards Kvarner along the coast line and exited in the Bregana zone at 16.59.
Defence Minister Mario Banožić praised the participation of the Republic of Croatia in the activity, and stressed that it sent out a vivid message that Croatia and the Allies contributed to global security and collective defence. "United and connected in the same mission, we are active guardians of the world peace", said the Minister.
The Commander of the 191st Fighter Aircraft Squadron, Lieutenant Colonel Zvonimir Milatović said it was an unique event and a special occasion for legendary MiG-21 aircraft to accompany the iconic B-52 Bomber. "This has been a very important event. We are honoured to have taken part in an exercise of the kind, accompanying a U. S. Air Force bomber, which is rarely used as interception target. The targets are most often fighter aircraft of foreign countries or transport aircraft transiting the Croatian airspace", said Lt. Col. Milatović.