New commander of Croatian Army appointed
The new Commander of the Croatian Army Major General Boris Šerić took over the duty from Major General Siniša Jurković at the ceremony held at the Croatian Army Headquarters in Karlovac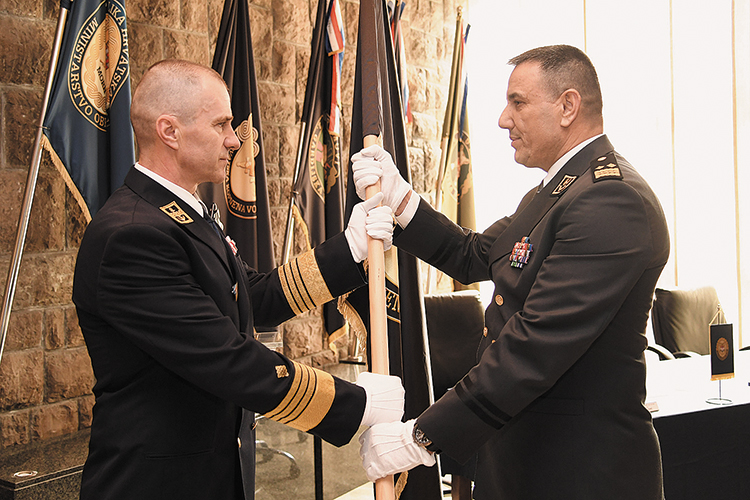 The new Commander of the Croatian Army Major General Boris Šerić took over the duty from Major General Siniša Jurković at the ceremony held at the Croatian Army Headquarters in Karlovac on 18 March 2020 , which was attended by the Defence Minister Damir Krstičević, by the Chief of the General Staff of the Croatian Armed Forces Admiral Robert Hranj and by the Chief Defence Inspector Lieutenant General Drago Matanović.
Minister congratulated Major General Šerić on his new duty, for which he had the experience and expertise to handle the challenges. The Minister called on the Croatian Armed Forces, commanders, soldiers, NCOs and officers had to offer personal example of conduct amid the situation.
Extending appreciation to Major General Jurković for his previous contribution, the Minister said that the Croatian Armed Forces had been a pillar of sovereignty and model of conduct through hardships.
Admiral Hranj congratulated the new Croatian Army Commander saying that the Croatian Army had a huge and irreplaceable role in the defence of the Republic of Croatia, and wished General Jurković success in his new post of Deputy Chief of Staff.
"The new commander of the Croatian Army is a commander and a leader, who will use his expertise to further strengthen it", said Adm. Hranj.
Taking over as Commander of the Croatian Army, Major General Šeric stated: "My plan is to continue the commitment to accelerate development and integration of new capabilities that guarantee the protection of sovereignty and extend participation in international missions, operations and activities, and support for state and civilian institutions."