New members of Special Forces Command take commando oath
Eleven members of the Special Forces Command take formal oath, completing the Basic Special Operations Training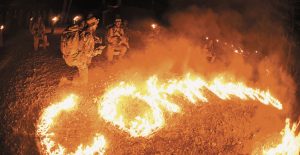 The Barracks "Josip Jović" at Udbina on 1 August 2018 hosted a ceremony marking the end of the Basic Special Forces Operations Training for eleven candidates of the Croatian Armed Forces; the ceremony was held at night,under the torchlight the new Special Forces Command members recited the commando oath and received their certificates and badges, after which they were handed their diplomas. The ceremony was attended by the Chief of the General Staff of the Croatian Armed Forces, General Mirko Šundov as Envoy of the President of the Republic as Supreme Commander of the Croatian Armed Forces, by the Special Forces Commander, Brigadier General Perica Turalija, other senior visitors and present and former members and commanders of the special units.
The basic special operations training comprises selection and training at the individual and small teams and a commando training. The individual training entails basic and advanced military skills (survival training, basic parachute training) and the small team training prepares the members to operate within teams.
The Commando training is the final and the hardest module of the special operations training, and includes practice in extreme conditions. Successful completion of the 6-month Basic Special Operations Training, particularly of the last module, is a precondition to join the Special Forces Command.
General Mirko Šundov said belonging to the special forces was both honour and responsibility and extended appreciation and congratulations to the trainees.
"Your skills and abilities are of special importance in today's complex security environment" Today's graduation opens a new phase of your military profession, high risk and high honour, as serving the homeland is one of the most honourable professions. You belong to an elite tunit of the Croatian Armed Force, top-trained and equipped special operations unit that is ready to perform its most demanding tasks at any time.
General Šundov also extended appreciation to the instructors for sharing their knowledge and skills with the trainees and wished that all new members of the Special Forces Command. proudly wore their green berets and badges, as their honourable predecessors did.
The Special Forces Commander in his address said: "Your strong will, zeal and faith in yourselves and in your peers helped you master all tasks and obstacles placed before you by your instructors. The complex and demanding training left the best and most capable candidates in, said Brig. Gen. Turalija, who also said "The Special Forces Command admits only top-trained professionals and teams. The operations we conduct and for which we must be prepared take only the strongest, and you have shown it in this training".
The ceremony closed with the presentation of certificates green berets and commando badges.