President of Republic visits 9th HRVCON  in Afghanistan 
The President of the Republic as the Supreme Commander of the Croatian Armed Forces  Kolinda Grabar-Kitarović visited the Croatian Contingent to Resolute Support based in  Mazar-e-Sharif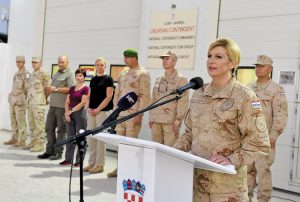 The President of the Republic as the Supreme Commander of the Croatian Armed Forces Kolinda Grabar-Kitarović visited the Croatian Contingent to Resolute Support based in Mazar-e-Sharif. "During the past sixteen years in Afghanistan the Croatian troops have demonstrated exceptional professionalism, readiness, training, interoperability. They demonstrated that they could co-operate with other NATO members, that they are ready for any type of threat", the President said, adding that it is an honour for her to present NATO medals to them for their contribution to the Resolute Support Mission as a token of gratitude from the Alliance.
The President stressed that enemies of peace, stability and security and security threats were still found in Afghanistan, particularly terroriust threatening Croatia and Europe, who can only defend themselves acting jointly and exchanging the information to prevent the attacks.. The President reminded that the result of threats throughout the world was the mobility of people mostly reflected in illegal migrations, but also in human and arms trafficking, drug trafficking and other prohibited things.
"Therefore, I thank you for what you are doing here, you are defending Croatian security; you are defending our youth from opiates that mostly come from this State and you are defending our borders from illegal migrants. You can just imagine what would happen if the system collapsed and a million people set out for Europe and the European Union via Croatia and Bosnia and Herzegovina. these days it is clearer why Croatia is present in Afghanistan".
Addressing the Croatian soldiers the President underlined that theiy were not sent to Afghanistan to occupy a foreign country but to enable the transfer of authority and of full control over thecountry on Afghans. "At your send-off at Pleso six months ago I put two demands on you: to demonstrate responsiblity, resolution and professionalism, and to show respect, understanding and feelings for the host country and for all the people of Afghanistan, which deseres peace and happier future aftrer decades of conflict and you have fulfilled these tasks successfully", said the Supreme Commander of the Croatian Armed Forces.
An addressing the soldiers, he emphasised that we are not here to occupy the foreign country, but to enable the transfer of all powers and the transfer of full control over the state to Afghanistan itself.
"The people of Afghanistan should never have the impression that we are here for other intereests than their need and right to peace and security, a safe life and conditions for prosperity and the future in Afghanistan." The 8th HRVCON is concluding its six-month engagement in Resolute Support and in two weeks will be succeded by the 9th Contingent,