The 14th generation of conscripts take oath in Požega
The 14 generation of conscripts graduating from the voluntary basic military training (468 trainees, 49 of whom females) took their oaths in the Army Basic Training Centre in Požega on 14 March 2015. The oath taking ceremony, along with the families of the servicemen, by […]
The 14 generation of conscripts graduating from the voluntary basic military training (468 trainees, 49 of whom females) took their oaths in the Army Basic Training Centre in Požega on 14 March 2015.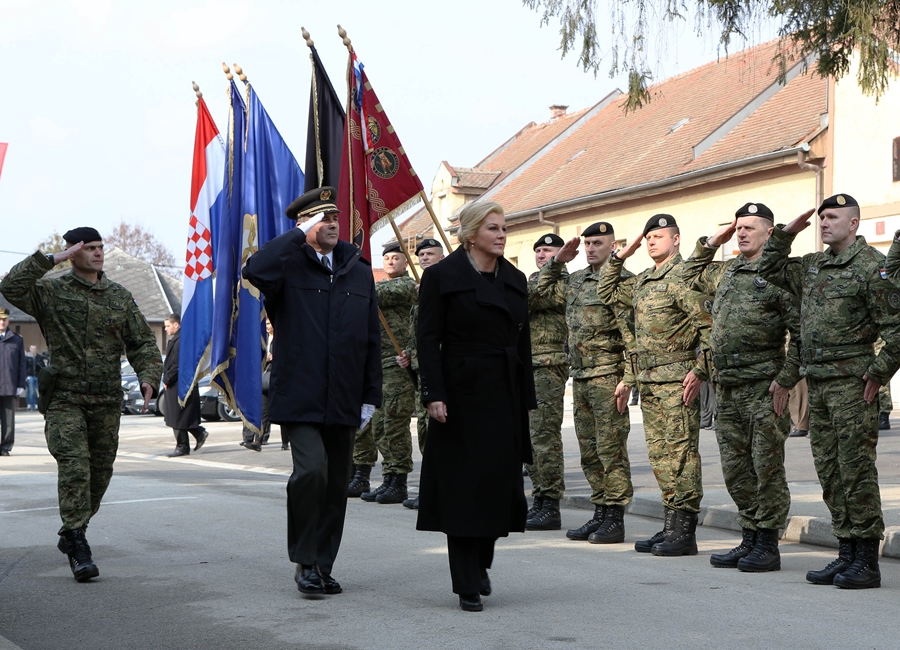 The oath taking ceremony, along with the families of the servicemen, by the President of the Republic as Supreme Commander, Mrs Kolinda Grabar Kitarović, the Deputy Defence Minister, Mrs Višnja Tafra, the Chief of the General Staff of the Croatian Armed Forces, General Drago Lovrić and senior representatives of the Ministry of Defence and the Armed Forces.
The President extended warm congratulations to the young servicemen on the oath taken and the welcome to the Croatian Armed Forces. "Having completed the voluntary service programme you've merited the entry to the Croatian Armed Forces as their regular members, and inherit the tradition of the victorious Croatia Army from the Homeland War". The President extended special recognition to the female trainees: "I was proud to learn that no female trainee quit the programme and my special congratulation go to them. Gender equality is important in the Croatian Armed Forces as it is important in the society in general ".
The Deputy Defence Minister, Mrs  Višnja Tafra extended her congratulations to the trainees for committing themselves to serve the Homeland on the voluntary basis. I am taking the opportunity to extend my best congratulations and appreciation", said Mrs Tafra.
The Chief of the General Staff of the Croatian Armed Forces, General Drago Lovrić extended his congratulations to the young conscripts on the decision to join the ranks and the victorious team. "I wish you kept in mind that  the Croatian soldiers defy any challenges and obstacles in the defence of national interests
The basic military training for conscripts extends for eight weeks of in-classroom training in the Basic Military Training in Požega and in the Gašinci Military Training Range. As many as 13 generations of trainees (3531 and 441 females) have completed the programme to date. Upon the completion the trainees acquire major qualification for admission into the active military service.