A gentle hand opens the heavy door of the M-ATV, behind which was a young smiling woman with a uniform and a helmet on – a singular sight in the Croatian Armed Forces too, as Private Marinela Domorad is the sole female trained M-ATV driver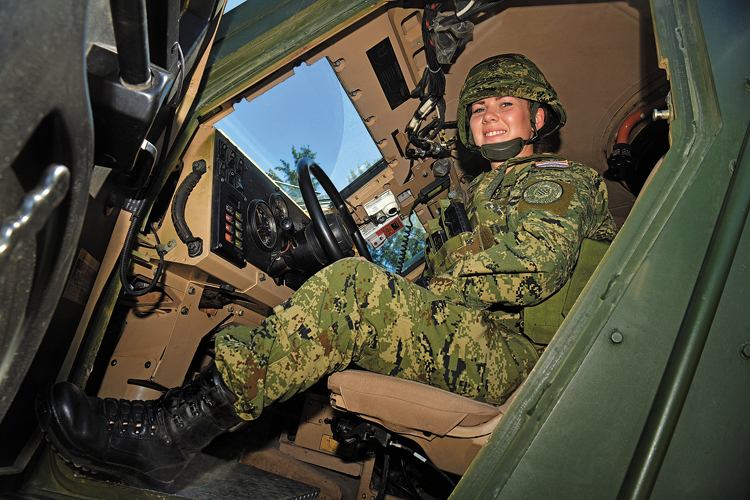 The "Hrvatski vojnik" magazine team arrived to the barracks in Gospić, during a regular working day, as much as allowed by the epidemic. A 27-year female member of the motorised battalion "Vukovi" came toward us . Born in Slavonski Brod, she joined the Croatian Armed Forces three years ago, but had to move to Lika, where she is living and working at the moment. The seemingly fragile member of the "Vukovi" Battalion moves and walks with determination, and talking to her we discover she is frank and modest, too. She openly admitted that she had lacked the courage to make her dream come true for prejudices, which she herself nurtured too. Once she set to making her dream come true, Pvt. Domorad realised no prejudices could stop her, and that soon if everything went well, she would become the sole female MRAP MaxxPro vehicle driver. "I worked in as a hairdresser for six years and all that time dreamed of joining the Armed Forces. I continuously heard the talk that military isn't a place for girls and that I had no chance of becoming a soldier, and I thought the same. But at one moment I made a decision to go for it, whatever the outcome. She met all prerequisites to become a combat vehicle driver, and she wants to share a message with all women fighting with the same fears: "You can do it!" When she communicated her decision to join the armed forces to her family and friend, everyone was surprised. "They thought me too snappy for the military, but I wanted to prove I could and I made it. This is a profession with much sacrifice, you have no private life, you can be ordered to a mission any time. There are positive and negative sides to everything. A positive side is that her boyfriend is in the military and knows perfectly what the life of the military is like.
On the right track
The path to the goal was all but easy, as seen in a fun anecdote. 'When I came to take the C-category training, I was told at the very door: "Colleague, this is a Category C vehicle training', as they thought I reported at the wrong place. But the young soldier knew she was at the right place. She had great five weeks, we practiced driving on Ivec, the instructors were good, as well as drivers and colleagues. After I practiced driving, I successfully passed the exam", Marinela tells us. Even then, when she passed the exam for the C category, she came across disapproving voices again, who said she as a female soldier should go for a different specialty. However, it only fuelled motivation for Marinela. She was surrounded by some well-intentioned colleagues, who supported her and helped her with the stuff she did not know. After a few months Marinela she took a 5-day course for the M-ATV, which comprised road driving on various terrains. Once she set out to make her wishes come true, she realised that no prejudices could stand in her way, so soon, if the circumstances allow it, Pvt Marinela Domorad will become the sole female driver of MRAP MaxxPro vehicles.
"Before the outbreak of the coronavirus pandemic, I was preparing for a course for the MaxxPro vehicle, but it was eventually canceled. But I still plan to go to that course when circumstances allow," our interlocutor points out. Asked how she feels about the title of the only female M-ATV driver in the Croatian Armed Forces, she says: "Everyone sees it as a compliment, but I often wish no one asked me anything. I feel uneasy and I don't like to say that I am the sole female driver and to sound conceited because I am not. So when asked if I am the sole M-ATV driver, I say that another female soldier may be in training and taking the driving test as I speak!"
Driving Dad's lorry
Marinela is a passionate driver in her private life too. Her car is an Opel Corsa, but her bent for big heavy vehicles runs in her family. "My Dad has a lorry which I sometimes drive. Blood is thicker than water", she says laughing. Marinela is presently with the forces declared for the EU Battlegroup with Germany. Her unit, "Vukovi" is under the German leadership. "Out pre-deployment for the EUBG took us to various fields and in various international military exercises, where I have acquired a lot of experience. We have practiced for a year and a half and have been evaluated "ready" and will spend the next six months in the stand-by status"; says Pvt. Domorad, whose assignment in the possible engagement would be as M-ATV driver. She hopes to take part in an international mission with the same assignment.
Slavonia in Lika
We asked her about her life and work in Gospić. In late 2017 she was assigned to the "Vukovi" Battalion, and Lika became her temporary home. "A lot of people coming from Slavonia work here, we go home and come back together. We are close to each other, and get along just excellent – we eat and sleep toghether, just like an extended family, so at one point you no longer see those people as colleagues but as brothers and sisters ",says Marinela, who wishes to become a NCO and serve maybe in Slavonia, closer to her home. If it doesn't turn out so, she says, she's ready for anything. "I am glad, I like the life in the military and long-term objective is to serve in the Croatian Armed Forces", concluded the young soldier.