Basic Military Diving Course
The Diving Training Department of the Naval Training Centre ran a 5-week basic  diving military course for the members of the Engineer Regiment (the River Battalion), Special Military Police and the Croatian Navy. Nine out of 12 candidates arrived to the last and the most […]
The Diving Training Department of the Naval Training Centre ran a 5-week basic  diving military course for the members of the Engineer Regiment (the River Battalion), Special Military Police and the Croatian Navy. Nine out of 12 candidates arrived to the last and the most complex phase, and  seaman Pere Knežević of the Croatian Coast Guard was proclaimed the best trainee. 
The candidates underwent initial screening in the Institute of Naval Medicine, comprising the basic and specialist medical examination and barofunction testing in the decompresion chamber to simulate dives.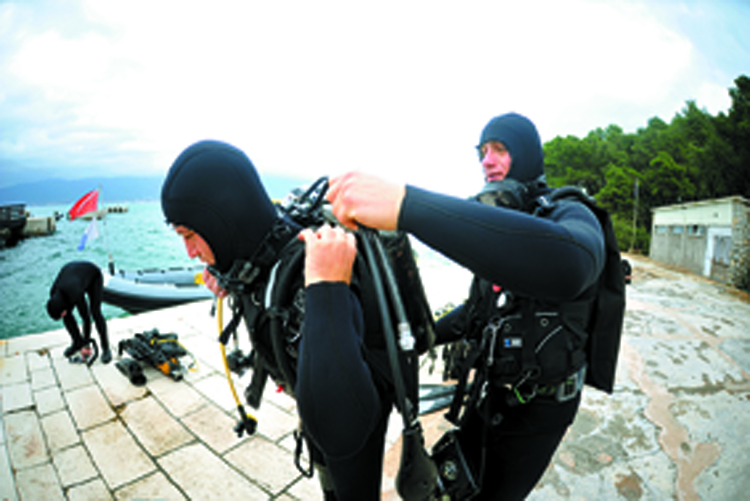 "The Basic Course admits the candidates with little or no previous diving experience", says the Course Administrator, First Sergeant Berislav Paraman, with 21 years of diving  instruction behind him. They start with the life-essential classroom teaching scheduled in the first week, which comprises the hyperbaric medicine, maritime studies, meteorology,  underwater mines, rights and duties of the military divers, familiarisation the divers with visual marking, hyperbaric equipment. The classes are also attended between the dives and are concluded with the eliminatory written and the oral examination with the Examination Board. In the event they fail the candidates are allowed to take a new exam a month later. 
The candidates are trained for dives up to 30 m using the military scuba equipment. The practical part of the Course starts incrementally from the basic procedures. It includes the pool work, starting with free diving, breathing practice  above water etc . These are followed by underwater breathing practice, buddy breathing, mask adjustment , adjustment,  ditching and donning practice underwater.  Finally, the candidates undergo neutral buoyancy diving and gradually expose themselves to extended range dives. 
Naval Training Centre – Diving Training Department – The Diving School
The Diver Training Section was established in 2008 and has since  successfully trained more than 500 members of the Croatian Armed Forces. The Unit runs the basic and the advanced military diving course, the diving Instructor course, the diving accident management course (oxygen providers), the air compressor operator course, the full face mask diving course, the drysuit diving course, the course in harsh conditions (Ice/cold water diving  course, river diving, freshwater diving, cave diving, repetitive dives etc). 
The staff of 15 are headed by Commander Neven Katić. In view of the excellent  feedback  from the Combatant  Swimmer Course conducted in with the U.S., Polish and Croatian cadets co-operation with the Special Forces Command earlier in 2015, the Department is to organise a new Course in 2016, along with a series of other international co-operation activities, especialy  succesful with German navy clerance divers.