Croatian Navy Vessel sent-off to "Sea Guardian"
The Croatian Navy's Missile Boat RTOP-42 "Dubrovnik" sets sail from the port of Split to NATO peace support operation "Sea Guardian" in the Mediterranean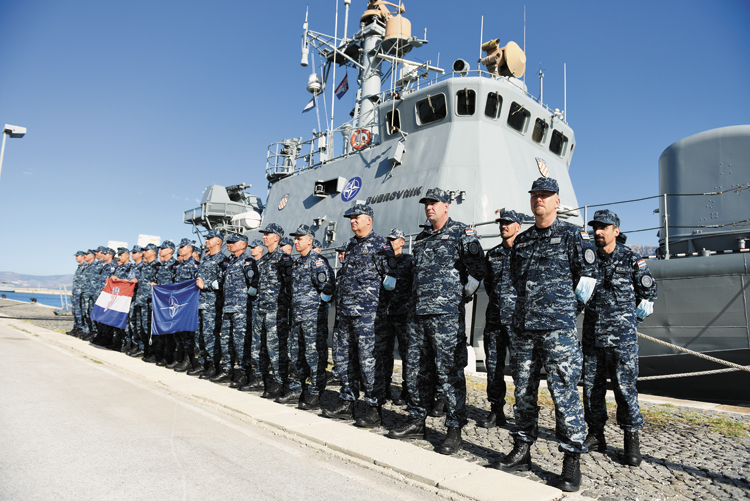 The Croatian Navy's Missile Boat "Dubrovnik", with a crew of 32 set sail from the Barracks "Admiral of the Fleet Sveto Letica-Barba" in Split on 3 September 2020, to take part in NATO's peace support mission "Sea Guardian" in the Mediterranean.
The send-off ceremony (reduced attendance in view of the epidemiological measures in effect) was attended by the Commander of the Croatian Navy Rear Admiral Ivo Raffanelli, who in his address congratulated the Contingent members on the thorough preparations and efforts to get ready to conduct the demanding task in the COVID-19 epidemic circumstances. The Croatian Contingent will be included in the Focus Operation (a segment of the Sea Guardian), executing non-combat missions, with the focus placed on provision of logistic and maritime situational picture, and on deterrence of possible threats).
"Through the engagement in "Sea Guardian" the Croatian Navy contributes to the unity of NATO member nations and participates in the showcase of NATO's determination and commitment to the protection and defence of the allies. The Croatian Navy and the Croatian Armed Forces have again displayed that Croatia is a committed and credible NATO member", said Rear Admiral Ivo Raffanelli.
The Contingent Commander, Lt. Com (N) Marinko Majić appreciated the trust placed in them and stressed that the Contingent was ready for the task ahead of them in the Mediterranean, following a demanding pre-deployment training.
The Commander of the Missile Boat "Dubrovnik", Lieutenant (N) Ante Uljević, leaving on his third mission in "Sea Guardian" said that the engagement of the Croatian Navy in the Operation was a contribution of the Republic of Croatia to the Alliance's efforts to ensure safety at sea.
The Missile Boat "DUBROVNIK" – a Helsinki-class rocket launcher is 45 m long, with a 8.9 m beam and 28-knot speed. The vessel is intended for rocket attacks against enemy ships and artillery action against aerial, sea and ground targets.
It performs assigned tasks in complex conditions, on high seas, approaches and in the inter-island area, limited anti-submarine warfare and transhipment to suspect vessels within the maritime traffic control mission.
The missile boat is fitted with eight RB-15B anti-ship missiles, a 57-mm Bofors Mk1 cannon and two SAKO ZU 23-mm stern anti-aircraft guns. It is also equipped with two PKT rifles for close protection. "DUBROVNIK" was previously engaged in the Operation "Sea Guardian" in September 2019 and has also participated in several international military exercises in Italy, Montenegro and Albania.
Croatian version: