Damir Tomljanović Gavran: Unpretentious Tiger, but True Hero
"He spent every day with the soldiers, including the final day. He was not just the greatest among the Tigrovi (Tigers); he outgrew them a long time ago. His commands were executed without discussion exactly because he always led the way…," Gavran's fellow fighters say when recalling the days spent in the Homeland War with that extraordinary man and commander, including the fatal 17th February 1994, when Tigar 55 did not answer his Motorola on his position on Tulove grede…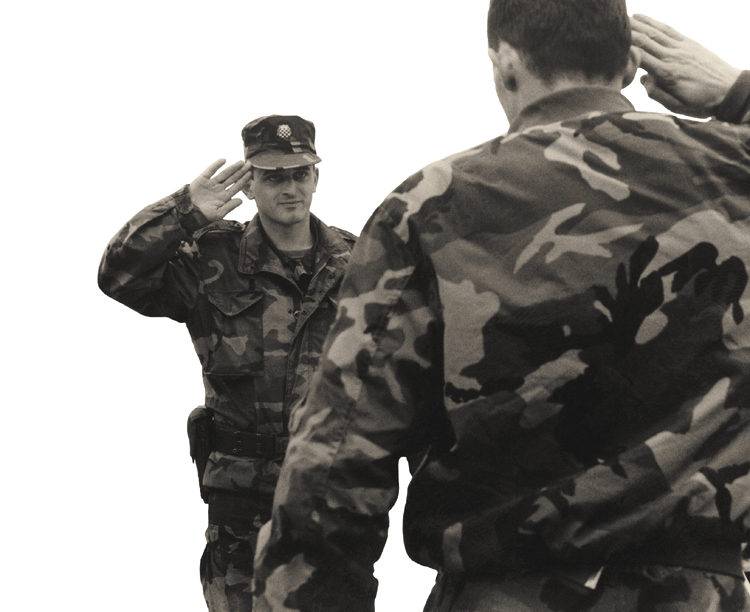 "I'm coming, pal." That is the catchphrase by which Damir Tomljanović Gavran is remembered by his fellow fighter. It is this utterance that perfectly sums up that Homeland War hero's character – he was everybody's friend and he was willing to do everything for his soldiers. Although he performed the duties of the Commander of the 2nd Battalion of the 1st Guards Brigade Tigrovi (Tigers) and the Commander of the Zadar Sector, he tirelessly spent every day with his men, including the day when he lost his life on the slopes of "his" Velebit. Since his death on 17th February 1994, 25 years have passed, but the memories of the heroic deeds of this legendary Tiger do not fade. According to Tomljanović's fellow fighters, he joined the Homeland War as a volunteer at the beginning of the war by arriving to the Special Police Unit in Rakitje from Krivi Put. Although he had no formal military education, he quickly made a name for himself in combat. He and his Tigers fought on the battlefields in Eastern and Western Slavonia, Banovina, Korduna and the far south of Croatia.
Major Vinko Paulić fought alongside Gavran from the very beginning in 1991, when the 4th Battalion of the 1st Guards Brigade was just being formed. "The Battalion received a code name Gavran (Raven), which became Tomljanović's nickname; he was a tall, dark man from Velebit and the nickname matched his appearance. Damir soon became the Commander of the 2nd Company, while I was made Commander of the 1st Company. Our first joint area of operations was Hrvatska Kostajnica, i.e. the no man's land that Chetniks had not fully occupied. Our brigade was commanded to occupy the town and take positions. In Hrvatska Kostajnica, Damir proved himself to be a true friend and a great man that you could always lean on and count on no matter what. He was always that one person who would help you solve a problem. We were young, we were hearty and we had one goal – to preserve our Croatia and to give our best to liberate it," Major Paulić recalls.
Upon his arrival to Hrvatska Kostajnica, Tomljanović was tasked with occupying hill Djed, a place of strategic importance. When it was time to reconnoitre the area, Paulić says, Gavran was always the first to go.
"We never sent guardsmen to reconnaissance missions. The commanders always reconnoitred, which was not in line with usual military tactics and strategic thinking. We thought that we were more experienced than the guardsmen because we had been through more than the had. Most of them were involved in a war conflict for the first time. We left them on their positions and taught them what to do in that way," Paulić says. In Hrvatska Kostajnica, Gavran was often accompanied by the Croatian Radiotelevision's cameramen Gordan Lederer and Dražen Šimić. For Lederer, one reconnaissance mission proved to be fatal. On 10th August 1991, a barricade was spotted on hill Čukur. Lederer and one guardsman went there to film the barricade. However, they walked farther than planned and were uncovered by enemy soldiers. Shooting began. Lederer and the guardsman began retreating, but fire was opened from the other side of the battlefield. They ran across a mowed clearing, where the enemy had a clear sight of them. In an attempt to save himself, Lederer was shot. "When I called Gavran and told him that Lederer had been wounded, he immediately called for back-up. Gavranovi, Kosovi (Blackbirds) and the Special Police Unit from Kutina arrived. We were the first to reach him and swathed him. Paramedics arrived soon after, but he was already succumbing to his injuries. Unfortunately, he passed away on his way to Zagreb because Lieutenant General Andrija Rašeta of the Yugoslav People's Army did not allow him to be transported to hospital with a helicopter," Gavran's fellow fighter says. Although the guardsmen on the field did everything they could so that the cameraman would survive, Lederer's injuries were too heavy.
According to his fellow fighters, Gavran was deeply affected by the passing of the Croatian Radtiotelevision's cameraman because he had taken him to the battlefield, but did not bring him back alive. After that, he avoided journalists and cameras, so that footage of this legendary Tiger is extremely rare. He is said to have been an unpretentious but true hero.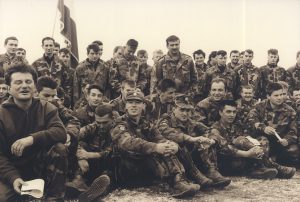 "He was first of all a man who knew his way with people. Nobody had to worry about being forgotten or left behind. He appreciated his guardsmen because he knew he was nothing without them. He led by example – he showed us how to act in certain situations and how to care for your people. He asked of his subordinate commanders to follow his example. He worked well with his subordinates. The rule that most of us abided to was that we had to lead by example and show others how they should act and what they should do. If you get off on the wrong foot with people, they will not appreciate you or follow you. People followed Damir everywhere because they knew that he would care for his soldiers and make sure that they had everything they needed. He believed that the guardsmen should never lack anything, but he never looked after himself. Nothing could have worked out in those days if it had not been for our good co-operation and friendship," Paulić finds.
After Hrvatska Kostajnica, Gavran moved to the front in Western Slavonia. The situation in had Novska come to a head, attacks were lining up and the Croatian defenders were barely holding onto the first line of defence. As Paulić recalls, Gavran's men were commanded to retreat from Novska to Lipovljani. However, they found abandoned tanks in a bush, which Gavran used to form a tank crew with his guardsmen and halt the rebelled Serbs' attack.
"Had Gavran not recovered those tanks, Novska would not have withstood the attacks. It is because of Gavran that Novska did not fall," Major Paulić believes. Both armies fought on the battlefield until they dropped. Soon after the signing of the Sarajevo Agreement in early 1992, Gavran left for Zagreb to prepare for combat on the Southern Front. In early April 1992, the 4th battalion was deployed to the front line on mountain Rujnica. The enemy was at a higher altitude and launched attacks on a daily basis.
"At times, there were several infantry attacks in a single day. Some of our guardsmen could not bear it, but they stayed only because of Gavran, who visited them every day. When men saw that their commanders were with them on the front line, they were more motivated," Paulić concludes. He stayed with Gavran on the Southern front until mid-August, when the 1st Guards Brigade returned to Zagreb. At that point, their war paths split up.
Although their paths hardly crossed on the battlefields at the start of the war, Homeland War veteran and former member of Tigrovi Darko Katuša vigorously fought alongside Gavran until the end of 1992, when Gavran was made commander of the 2nd Battalion.
"His men elected him commander; nobody appointed him. He was elected because he was among soldiers every day. He was with them on that final day, even though he had been promoted to the Commander of Sector Zadar by then. He commanded over various units and treated them all equally, although he had previously been in Tigrovi. He tirelessly visited the soldiers every day. That was important to him, more so because Velebit was a peculiar territory. The conditions were difficult: it was winter, it was snowing, the bora was blowing… In order for the morale to remain on a high level, Gavran had to be a constant presence among the soldiers from day one. His commands were always executed without discussion because he always led the way. Who could say no to him?" Katuša says about Gavran.
He recalled how Gavran embarked on a conquest on Tulove grede in extreme weather.
"A platton set off to Tulove grede and Gavran joined them as the sector's commander. He simply could not just stay at the command and wait," Katuša says. Gavran lost his life on Tulove Grede, on "his" Velebit, among his men. Katuša was with him when he breathed his last breath. Today, 25 years later, he gets emotional when talking about the death of his fellow fighter Gavran.
"We had a problem in one part of the battlefield. Chetniks were coming between us and the Special Police. We made a joint decision with the Special Police Command to seize that trig point so as to halt them. Although Gavran had a meeting scheduled for that morning, he called me up before we set off and said: 'Hold up, I'm coming.' He set off first and told us that we had to retain the desired position when we arrived there. As we were looking at that position from an elevation, shots were fired. Gavran and the company's commander Grgo Tokić threw themselves to the right, while I flew to the left. After about 20 seconds, I called out Gavran's name, but received no reply. I crawled to them. Grgo was taking his pulse and told me that it was weak. We noticed the entry wound on the temple, but we could not see the exit wound on the neck. I called the Command and told them that Tigar 55 (his code name) was wounded and that we needed a helicopter. Engineers and a Special Police unit arrived with a gurney. We extricated Gavran out of enemy's reach, although we were still being shot at. When the helicopter arrived, we could still feel a weak pulse. Unfortunately, we later heard the news that he had died on his way to the hospital," Katuša recalls. He goes on to say that although the men were having a hard time, they had to retain the line of defence. One wondered how the commander's death would affect the soldiers. However, there was not much time to grieve; the army had to continue fighting.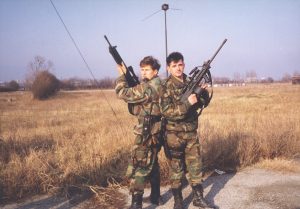 "I still consider Gavran to have been one of the greatest. It was an honour to march by his side. He was not just the greatest among the Tigrovi; he outgrew them a long time ago. He became a legend in his lifetime, especially in the south. He was young, but he became serious overnight. When his soldiers died in combat, he cried in his room like a baby. After his death, we had to move on. The war was still going on and there was no stopping until Croatia had been liberated," Katuša says and stresses how the Association of War Veterans of the 1st Guards Brigade Tigrovi keeps Gavran's memory alive as well as the memory of 367 fallen and six missing "Tigers".
"He stands out as a symbol of courage and as a symbol of a commander who never gave up. He was an example to everyone, both commanders and soldiers. That is why he became a commander. I never saw anybody disobey him and that is why we must remember him. We must not forget that we would not have Croatia if it had not been for such great men. Gavran is equal to all other famous army leaders that we have had throughout history. He was born with that trait," Katuša concludes at the end of our conversation.
Streets and squares in the biggest Croatian cities, military schools, sports halls, memorials and pilgrimages are named after Damir Tomljanović Gavran. A special memory is preserved in his birth place, Krivi Put.
---
Screening of Documentary "Hold out, Pal, I'm Coming"
On the occasion of the 25th anniversary of Brigadier Damir Tomljanović Gavran's death, the Croatian Radiotelevision's documentary about this Homeland War hero was screened in Hall "Zvonimir" at the House of the Croatian Armed Forces on 15th February 2019.
The premiere was attended by the envoy of the President of the Republic of Croatia and the Commander-in-Chief of the Croatian Armed Forces Zrinko Petener; the envoy of Deputy Prime Minister and Defence Minister, the Chief of the General Staff of the Croatian Armed Forces General Mirko Šundov; State Secretary Tomislav Ivić; the Special Advisor to Defence Minister Božo Kožul; the delegations of the Ministry of Defence, the Croatian Armed Forces and the Ministry of Croatian Veterans; former commanders of the 1st Guards Brigade; and Damir Tomljanović Gavran's family.
The documentary was produced by the Croatian Radiotelevision. It features Damir Tomljanović Gavran's family members and fellow fighters who spoke about his life and war path.
On the occasion, the Chief of the General Staff of the Croatian Armed Forces General Mirko Šundov pointed out that Damir Tomljanović Gavran defended his homeland with honour and courage from the moment it had proclaimed its independence. He had become a legend of the Homeland War and his name was engraved in the memories of those who had known him. "This documentary is a humble acknowledgment of Damir's sacrifice. We continue educating new generations of Croatian soldiers on the model of our war heroes such as Damir," general Šundov said. He added that we valued our past, built our present and cared for our future when we presented the heroes of the Homeland War to the world.
In his opening speech, the film's director Darko Dovranić said: "Damir Tomljanović Gavran has been gone for 25 years, but has been in our hearts all along."
---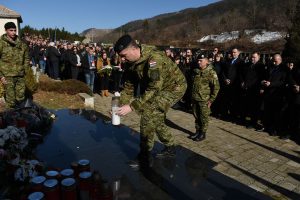 25th Anniversary of Gavran's Death Marked in Krivi Put
The 25th Anniversary of Brigadier Damir Tomljanović Gavran's death was marked with a commemoration on his grave in Krivi Put on 17th February 2019.
Alongside members of Tomljanović's family, the legendary hero of the Homeland War was honoured with laying wreaths and lighting candles by the envoy of the President of the Republic of Croatia and the Commander-in-Chief of the Croatian Armed Forces, the Special Advisor to the President for Veterans' Affairs Ante Deur; the Deputy Speaker of the Croatian Parliament Milijan Brkić; the envoy to the Prime Minister of Croatia, the Minister of Croatian Veterans Tomo Medved; the envoy of Deputy Prime Minister and Defence Minister, the Chief of the General Staff of the Croatian Armed Forces General Mirko Šundov; the Special Advisor to the Minister of Defence Božo Kožul; The Commander of the Croatian Defence Academy "Dr. Franjo Tuđman" Major General Mate Pađen; the representatives of Homeland War veterans' associations and the local government, etc. On the occasion, the President of the Association of War Veterans of the 1st Guards Brigade Tigrovi Ilija Vučemilović Šimilović told the gathered public that Tomljanović Gavran was a special man who ought not be forgotten. "For the past 25 years, we have gathered here to thank him for everything that he did for us, our children and our homeland. Thank you for not forgetting that," Vučemilović said. A memorial service for Gavran was celebrated by the Military Ordinary Msgr. Jure Bogdan in the Church of Our Lady of the Snows. The commemoration was continued with a concert in a school gymnasium in Senj.
Deputy Prime Minister and Defence Minister Damir Krstičević also recalled Damir Tomljanović Gavran: "It is with particular reverence and sadness that we today remember a hero of the Homeland War, Damir Tomljanović Gavran, a member of the legendary 1st Guards Brigade Tigrovi who sacrificed his life for his homeland on the slopes of Velebit. The memories of his heroism do not fade. The NCO School of the Croatian Defence Academy carries the name of Damir Tomljanović Gavran in his honour, and his values are engraved in the Croatian Armed Forces today."
---
Text by MARTINA BUTORAC
Photo by VINKO PAULIĆ, ARCHIVE OF THE 1ST GUARDS BRIGADE, TOMISLAV BRANDT, JOSIP KOPI
Translation by IVA GUGO