Exceptional Sports Achievements across Several Disciplines
We spoke with Olympic champions and five-time world champions, brothers Valent and Martin Sinković about the exceptional results which they have achieved in three disciplines, thanks to which their names have been forever inscribed into the history of rowing. They also described their experience at the military exercise Velebit 18 – Joint Forces, where they participated as members of the contract reserve…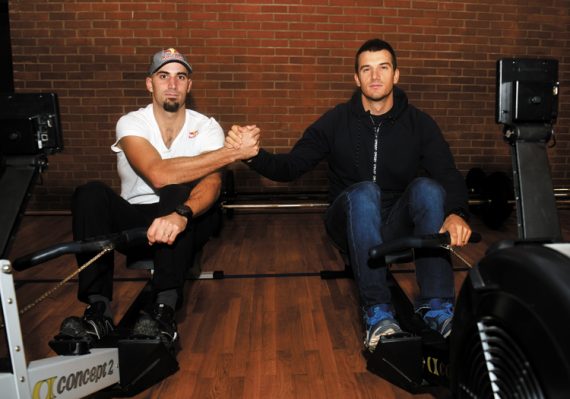 It is absolutely unbelievable how easily these two brothers win medals of the highest class even when they switch disciplines they compete in, something that nobody else in the history of rowing has achieved. Their success seems even greater when one takes into account their dominance and the fact that they leave their opponents far, far behind them. Of course, we are talking about the Sinković brothers, older brother Valent and younger brother Martin, the current Olympic champions in men's double sculls. At the end of September, they made history by winning their fifth gold medal, this time in men's coxless pair. We spoke with the Sinković brothers about their fantastic sports achievements as well as the Croatian Armed Forces' largest military exercise Velebit 18 – Joint Force, in which they participated as members of the contract reserve at the end of October. To start with, they commented their world-class results and told us why they had decided to switch from two oars to one after the Summer Olympics in Rio de Janeiro.
"It was not saturation, but rather the prospect of a new challenge that made us switch to a new discipline. We had already won everything there was to win in men's double sculls and we wanted to achieve even more, if possible. We decided to give it a try in a new discipline and win all the medals in it, too. It was a feat nobody had attempted before and we wanted to stand out even more," Martin explains. His brother Valent adds that switching to a new discipline had not been "smooth sailing", although the results they have achieved in it so far tell a different story.
"It was challenging switching to a new discipline. Everything was different. It was difficult for us to find some basic elements that we had had in our old discipline, such as relaxation or balance in the boat. We struggled for a really long time. There were ups and downs, but we are pleased with our latest results. The gold medal from the World Champions is the wind beneath our wings for the next Summer Olympic Games in Tokyo. That is the most important competition, after all," the older Sinković brother reveals.
Martin adds that they acted as though they were complete beginners in rowing after they had switched disciplines. But, they did not have to wait for success in it for too long – they came in second in their first competition in the World Cup. Soon, the medal of the highest class followed.
"We were surprised ourselves by how dominant we were." In fact, they were almost two seconds faster than their opponents. "Entire season long, we had not been able to reach our goals. We were hoping for a gold medal, but we did not think that we would be so far ahead of our opponents. We were amazed, but we also finally got that feeling that we had been looking for. After a year and a half in that discipline, the race suited us. We made progress quickly. We always try to give our best and be the best that we can be in each discipline," Martin concludes.
As Valent explained to us, there had been cases when rowers achieved good results after switching disciplines. However, the older Sinković admits: "What we have done, switching from two oars to one, is a special feat."
Considering the results they have achieved and the ease with which they handle new challenges, it would seem that Valent and Martin Sinković would be just as successful in any other sport. So, we ask them why they chose rowing. The answer is a surprising one. Their mother is to blame; she enrolled them into rowing by accident.
"Our older brother had seen a kayak on television and asked our mother to enrol him into kayaking. However, mom went to a rowing club and that is how we ended up there. It was a complete accident," Valent laughs. For years now, the Sinković brothers have been world-class athletes with top-level results and countless medals. They point out that they have no problems covering the costs of competitions, trainings or the equipment. However, the position of athletes in so-called minor sports is not an ideal one.
"All of our expenses are paid for. However, those who have not reached the top yet are struggling. They have to work or study while training. Some of those who do not achieve top-level results find it difficult to stay in rowing once they have completed their studies. They start working and stop training, although they still have a lot to give in rowing. From that point of view, those who do not have the necessary financial means struggle in minor sports. We know that we will not be able to make enough money to support ourselves for the rest of our lives with this sport and that we will have to take up a job once we finish our careers. That is why finishing my studies is my priority. I will see which doors will open up me to me later on and where I can contribute the most when my career is over," Valent says. Martin, a student at the Faculty of Kinesiology, agrees and adds: "Our primarily goal is to continue rowing for a long time." What is coming up for them next are the qualifications for the Summer Olympics, which the brothers agree they should not have much trouble with. "The Olympic Games are still the most important competition for us. We have to be in Top 11 in qualifications, but we want to enter the Olympic season in the best possible way: by becoming world champions again and thus favourites for the gold medal," the older Sinković brother says. At the next Summer Olympics in Tokyo, they want to win a gold medal, for they prefer that medal to all others. "Every gold medal that we have won has been important to us, but the gold medal from the Olympics stands out as the shiniest one, as the peak of our career," Martin reveals.
Alongside all commitments that they as top athletes have, the Sinković brothers are also members of the contract reserve and gladly accept each call from the Croatian Armed Forces. In Barracks "Josip Jović" in Udbina, they participated in the military exercise Velebit 18 – Joint Force. "It was fun to see what a military exercise looks like from the inside. We visited the Exercise Command in Udbina. It was interesting to see how all the branches participating in the exercise are co-ordinated. As much as we have helped the military, the military has helped us, as well. Soldiers spoke to us about their work and training. In fact, the mindset of a soldier is quite similar to that of an athlete," Martin believes.
Valent agrees and adds that spending time with active duty officers on the field and listening to their stories was a nice experience: "We are happy with everything that the Croatian Armed Forces have given us and we feel like we owe something to them. That is why we accept every call, especially when sports competitions are concerned."
The younger Sinković brother stresses that being a member of the contract reserve and wearing the uniform of the Croatian Armed Forces is a big honour, while the contract reserve programme provides athletes with significant financial stability.
"An athlete is on a shaky ground because their finances depend on their results. Not a lot of money is given out in minor sports. We have the security of knowing that we have a safe pay if we get hurt and that we have an opportunity to be employed in the military later on. It is a big deal to know that you will get a job in the military and not end up on the street after the end of your career," Martin believes. Like all members of the contract reserve, the Sinković brothers went through training at the Basic Military Training Centre in Požega. Their two-week stay there was an interesting life experience.
"I held a handgun and a rifle and shot from them for the first time in my life. The people there were forthcoming and made sure that we had some time left to train rowing so that we would not get out of shape. However, they did not go easy on us in some other aspects. They cut our hairs off and one time we found our beds turned upside down after lining up because we had not made them properly. They certainly did not go easy on us there," Martin laughs and concludes.
---
At the end of 2018, Valent and Martin Sinković received special recognition for their extraordinary sporting feats at the 67th annual poll for the athlete of the year, organized by Sportske novosti.
---
Text by MARTINA BUTORAC
Photo by TOMISLAV BRANDT
Translation by IVA GUGO