Holy Mass for Fallen and Missing Persons of Homeland War
During the Holy Mass at the Church of the Holy Mother of Liberty, Military Ordinary of Croatia Jure Bogdan underlined the importance of dialogue in interpersonal relations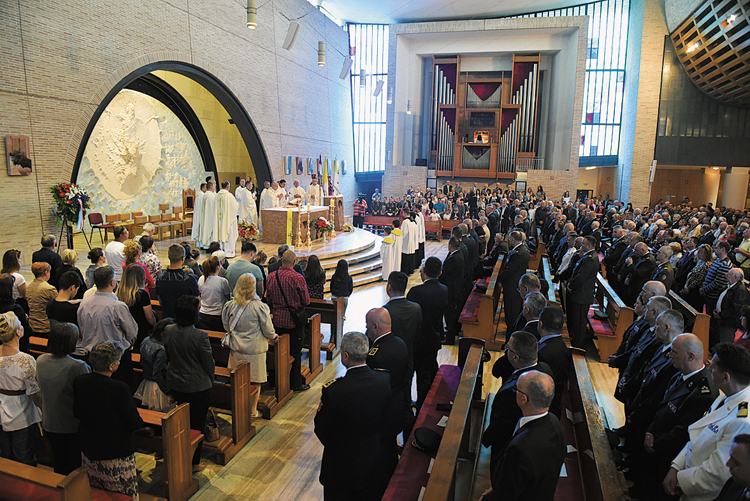 On the occasion of the 28th anniversary of the establishment of the Croatian Armed Forces, ahead of Croatian Armed Forces Day and Croatian Army Day, Military Ordinary of Croatia Jure Bogdan celebrated a mass for fallen and missing persons of the Homeland War (1991-1995) at the Church of the Holy Mother of Liberty in Zagreb on 26th May.
The mas was attended by the envoy of the President of the Republic of Croatia and the Commander-in-Chief of the Croatian Armed Forces Zrinko Petener, the envoy of the Speaker of the Croatian Parliament Željko Reiner, Deputy Prime Minister and the Minister of Defence Damir Krstičević as the envoy of the Prime Minister, the Minister of the Interior Davor Božinović, the Chief of the General Staff of the Croatian Armed Forces Mirko Šundov, the Mayor of Zagreb Milan Bandić, the members of the Croatian Armed Forces and the police, the representatives of Homeland War veterans' associations as well as families of fallen, deceased and missing Homeland War combatants.
In his sermon, Bishop Bogdan underlined the importance of dialogue in interpersonal relations. "Not matter how big a war, a conflict or a quarrel, it is necessary to sit down, contemplate the issue quietly and soberly and discuss it if we wish to find a solution and attain peace. There is no alternative to dialogue in our everyday lives. That is our destiny. That is the way of Christians, the way of the Church, the way of the society and the way of the Croatian people," the Military Ordinary said. After the mass, dignitaries laid a wreath on memorial Pietà Croatica.
The envoy of the Speaker of the Croatian Parliament used the opportunity to recall the Croatian defenders' contribution to the success of the Homeland War and highlighted the demographic renewal of Croatia as a responsibility of today's generation towards Homeland War veterans. "Our obligation to all those who laid down for Croatia is to make sure that our homeland subsists," Reiner said.
The Minister of Defence Damir Krstičević thanked all fallen Croatian defenders on the sacrifice they made in the struggle for peace and freedom during the Homeland War. "The Croatian Armed Forces have grown into a respectable, modern army founded on the victorious operations of the Homeland War which acts as a guarantee for peace and security," Minister Krstičević emphasized.
General Mirko Šundov highlighted the importance of preserving the memory of deceased Homeland War combatants and extended his appreciation to all active-duty Croatian soldiers for contributing to the development of the Croatian Armed Forces, concluding: "The Croatian Armed Forces are and always will be responsible for the defence of the Republic of Croatia's sovereignty and territorial integrity, the sustainment of international peace and stability as well as providing relief to Croatian people in wildfires, floods, etc."
Text by IVA GUGO
Photo by MLADEN ČOBANOVIĆ
Translation by IVA GUGO