In the Beginning Was a Dream
"You have dared to thread the path of the chosen ones, of the people ready for sacrifice so that you may realize your dream of flying, of courage, of touching the skies," said Brigadier General Mato Mikić, Commander of the Croatian Air Force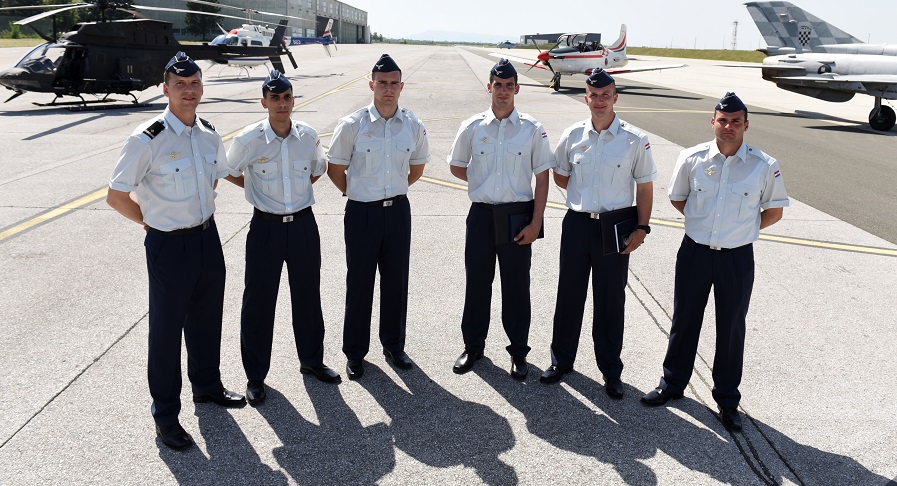 At first, you are a boy who longingly observes aircraft up in the skies or runs out of the house so as to be as close as possible to mighty, thundering water bombers that are flying low, extinguishing fires and saving people. Then, you tell everyone that you will have your own water member and be a pilot when you grow up. For a long time, you dream of having an aircraft, and the courage, and the strength for the calling. Eventually, you have overcome all the obstacles standing in your way. The sky is yours and your heart is bursting with rapture. Then, you wake up one day and find yourself standing on the ramp at Lt. Col. Marko Živković Barracks in the village of Pleso near Zagreb. Your name is called over a public address system and the wings of the Croatian Air Force's military pilots are placed in your hands. All aglow, you realize that you have emerged victorious, that you have made it, that you have touched the skies which you have dreamt of for so long.
Six such victors, born between 1992 and 1996, stood tall on hot tarmac, celebrating 14th June 2019 as the day when their long-time schooling would come to an end and they would join the Croatian Air Force pilot family.
All students in the 23rd class of military pilots agreed that the training had been interesting, but demanding, while their whole schooling had been one long selection process. Each training section ended with a solo flight and there was always a chance that they might not meet the training standards and attain their goal. The young pilots extended their appreciation to Major Robert Baraba and First Sergeant Stipe Baždarić; Major Ivan Krizman, the leader of their class; as well as First Lieutenant Dominik Jerinić and 1st Lieutenant Marko Novković, flight instructors from the Pilot School of the Rudolf Perešin Air Force Training Centre. The aforementioned men stood by the young pilots' side and supported them at all times, met them halfway, lent a listening ear in times of grief and cheered on their every success. They were their friends and at times acted as their surrogate parents. Of course, the young pilots could not have succeeded without support from their real families, who lived through every flight with them and derived pleasure from their sons' every successful flight lesson.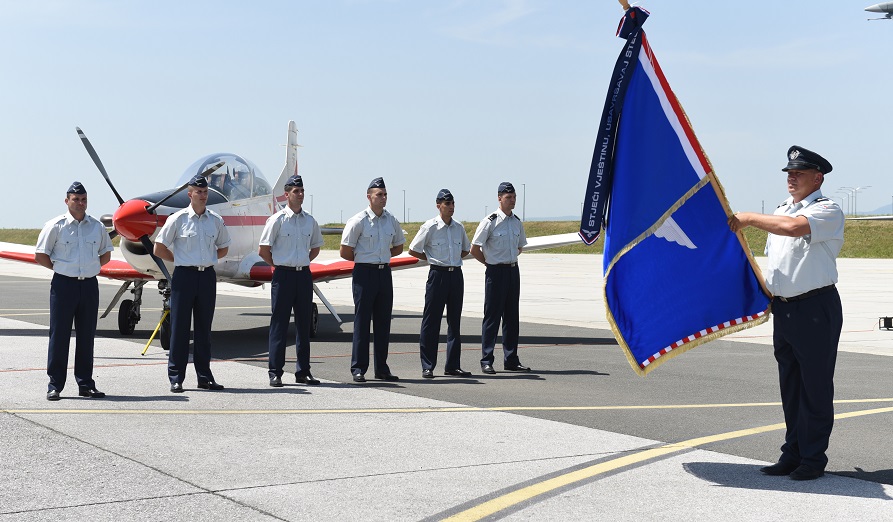 The young men from the 23rd class of military pilots followed their instinct and took charge. By successfully completing their schooling and receiving their wings, they have closed one of the most important chapters of their lives. Optimistically, they look to their future – flying clothing and cockpits.
Second Lieutenant Boris Šipura (b. 2nd August 1992, Požega), fixed-wing student pilot
I started my career at the Communication and Information Systems Centre, but an opportunity to train for a military pilot and replace my office with a cockpit opened up. The training was demanding. Every day I learnt something new, revised and prepared, but it paid off. My wish was to fly a fixed-wing aircraft and it came true. For me, these wings are a big acknowledgement and a confirmation that I can assume responsibility of an aircraft. What is coming up next for me? A flight instructor course and further training on fixed-wing aircraft.
Luka Hrga (b. 13th July 1994, Bjelovar), helicopter student pilot
I started out as a civil pilot, but the challenge, adrenaline and flying dynamics motivated me to retrain for a military pilot. I have accumulated many flying hours during the training. I had to perform a solo flight after each training section, but the first flight during the selection training is etched on my memory.
Modular instrument flying was the most difficult part for me. It was demanding and time-consuming; a lot of effort had to be invested into it. My wish is to stay in the Helicopter Squadron in Zemunik Donji and fly on Kiowa Warrior helicopters.
I would like to commend and thank our flight instructors, First Lieutenant Hrvoje Bagarić and First Lieutenant Mato Šrtkalj, as well as our head instructor, Lieutenant Colonel Domagoj Nekić. They believed in us all along, which is one of the reasons why we did our best to successfully finish our schooling, justify their expectations and prove worthy of their trust. Their relationship with us was an added motivation.
Domagoj Mandić (b. 25th August 1995, Zadar), helicopter cadet pilot
Now that the training has finished, I feel fulfilled and honoured to join the military pilot club. I have wanted to be a pilot since I was a child. I completed a vocational school in a field close to aviation. I have studied and looked up additional resources on aircraft. At last, I have made it. I would like to fly Black Hawk helicopters, should they be procured. Our flight instructors, the head instructor and everyone on the Helicopter Squadron make a great team. We could not have formed a better team ourselves. From the day our helicopter training began, we have felt like we belong there.
David Knežević (b. 22nd August 1994, Zadar), fixed-wing cadet pilot
I have always wanted to be a fixed-wing military pilot. I have never considered any other calling. I am from Škabrnja, a village close to the Zemunik barracks, so you could say I grew up with aircraft and helicopters. My childhood dream has come true. Receiving these wings fills not only me with pride but also my family, who have supported me throughout this process.
Josip Jelača (b. 11th May 1996, Zadar), fixed-wing cadet pilot
As a child, I wanted to be a firefighter, a bus driver and a water bomber pilot. I ultimately decided for the career of a military pilot after pilots had visited my secondary school to promote the military calling and describe their experience. I find water bombers to be especially challenging and I would also like to sit in the cockpit of a supersonic aircraft. My favourite part of the schooling was solo flights. I still remember my selection flight like it was yesterday; the first flight on the ZLIN Z-242L aircraft is etched on my memory.
Jakov Buturić (b. 4th March 1994, Zadar), helicopter cadet pilot
It feels great to know that you can fly solo and that you have mastered yet another aircraft type. To receive these wings is a big accomplishment that I trained a long time for. However, more training lies ahead. I was confident about completing the schooling for a military pilot. The atmosphere in the Helicopter Squadron is excellent. I would like to stay in Zemunik Donji as a flight instructor. However, I am first and foremost a soldier and I must obey orders.
Text by LEIDA PARLOV
Photo by MLADEN ČOBANOVIĆ
Translation by IVA GUGO