International Combat Swimmer Course
Twenty Croatian cadets, pairs of Polish and Slovakian cadets and a German cadet took part in a two-week international combat swimmer course that was held at Fleet Admiral Sveto Letica-Barba Barracks. The course is a special form of cadets' training in operating and surviving at sea and on land. It combines advanced contents such as mastering water obstacles by swimming and rowing and further develops their seamanship…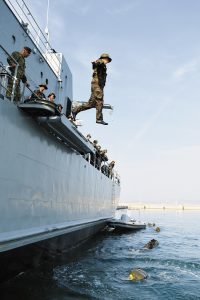 From 19th to 31st August 2019, twenty Croatian cadets, pairs of Polish and Slovakian cadets and a German cadet took part in an international combat swimmer course that was held at Fleet Admiral Sveto Letica-Barba Barracks. The two-week course is a special form of cadets' training in operating and surviving on land and at sea. It combines advanced contents such as mastering water obstacles by swimming and rowing and further develops their seamanship as well as tactics, techniques and procedures in land operations.
Participation in the course is open for cadets who have acquired good grades in the preceding academic year. Moreover, the participants must be good swimmers, not be acrophobic or aquaphobic, be acquainted with the procedures of leading troops and with basic techniques of squads/platoons as well as speak English, the official language of the course.
CROMIL's team visited the cadets just as they were mastering high diving off a vessel. "The point of this exercise is for cadets to learn how to treat their equipment and how to jump out of a helicopter in case they have to perform a helicopter assault. The most important thing is that they conquer their fear of heights," explained Lieutenant Junior Grade Hrvoje Repušić, course leader and platoon leader in the 6th Cadet Company. The cadets are being trained by instructors from the Cadet Battalion, Special Forces Command and Croatian Navy's Diving School, but all three branches of the Croatian Armed Forces provide support for the course.
During the course, the cadets had to master contents from several programme areas, including: swimming; swimming in uniform and with weapons; rowing and handling rubber and neoprene boats; usage of dry-storage containers and manufacture of portable containers; free diving; springboard diving; basic marine navigation; first aid and maritime search and rescue; preparation fire and field firing; tactics, techniques and procedures in flying cargo helicopters; situational exercises; fitness and conditioning. The course was organized in such a way that the physical toil gradually increased day after day, but health risks were reduced to a minimum.
"Although I was raised on the seaside, I must admit that rowing for 12 kilometres was the most challenging part for me," said Cadet Corporal Anita Peran, adding that the course had also been a great opportunity to exchange experiences with cadets from other countries.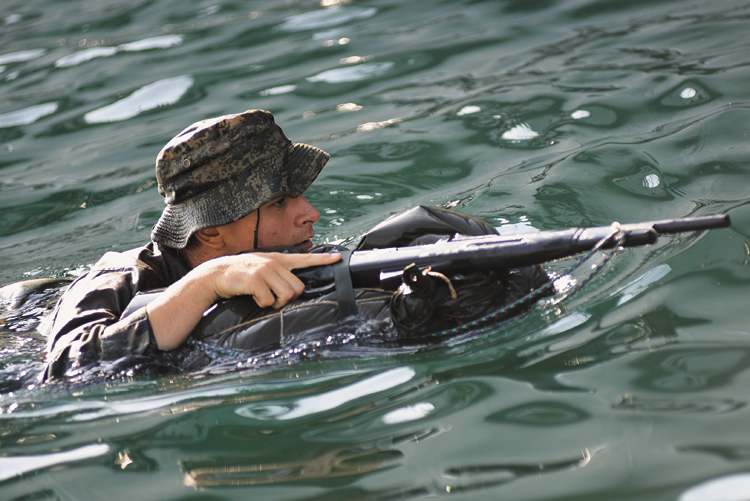 All individual activities served as preparation for three situational exercises, devised as scouting and commando missions through which the cadets had to show that they had mastered the military decision-making process.
The first situational exercise took place on the island of Brač, where the cadets demonstrated their seamanship and proficiency in ground combat. The second exercise was conducted at sea and in a river, where the cadets had to put rubber boats into use and apply tactics in using kayaks. The third exercise was the crown of the course: all three branches of the Croatian Armed Forces were integrated as the cadets had to evince their seamanship and proficiency in ground combat as well as execute airlifts with the Croatian Air Force's helicopters.
"During the course, the cadets have acquired skills that they could hardly acquire elsewhere. The credit for that goes to the experienced instructors, who have been serving in the Croatian Armed Forces for over 20 years," said Lieutenant Junior Grade Hrvoje Repušić, highlighting that the cadets would apply the acquired knowledge and skills in their future careers.
What delighted the course leader the most was the strong bond formed among the cadets, regardless of their country of origin: "Achieving team work in an international environment is the greatest reward for the instructors and for me."
---
Ensign Tobias Dittmar, Germany
For me, the instructors are one of the highlights of the course. They are experienced and competent. They have passed on a lot information and much new knowledge to us. I would also like to commend the realism of exercise scenarios; it is highly probably we might find ourselves in similar situations one day. A combat swimmer course exists only in Croatia and I am glad to have had the honour of taking part in it.
---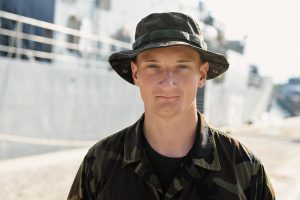 Cadet Corporal Krystian Więcławski, Poland
Young cadets in Poland seldom get an opportunity to take part in such exercises, so I am happy to have been given a chance to take this course. I have gained valuable experience that will be of much use to me as I would like to join a search-and-rescue team in the Baltic Sea.
---
Text by DORIS RAVLIĆ
Photo by MLADEN ČOBANOVIĆ
Translation by IVA GUGO