Pvt Monika Čižmek – First Female Driver of Patria AMV
Private Monika Čižmek from the "Gromovi" Battalion is the first woman training to become a driver of the most state-of-the-art armoured vehicle in the Croatian Army. How is she coping? According to her instructor - fantastically!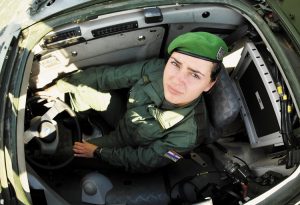 Engineer units and their characteristic vehicles and working machines are a normal scene in the training range "Cerovac" near Karlovac. During one week in September, it was visited by the members of the Guards Mechanised Brigade bringing the vehicles for a Patria Commander and Driver Course from taking place 20 August to 14 September 2018. The mechanised battalions "Tigrovi" and "Gromovi" were joined by the members of the "Pauci" Battalion that introduced those vehicles into use recently. "We have a large training audience – some 20 members; young NCOs and officers first meeting with the most advanced vehicle in the Croatian Armed Forces as well as more experienced servicemen who come for refreshment training", says the training administrator, 1st Lieutenant Igor Palajsa of the 2nd Company of the "Tigrovi" Battalion. "Patrias are a highly complex system whose commanders and operators have to be highly competent at all times in order to to successfully complete the training and execise tasks and also to guarantee safety for the crew. The responsibility also derives from the cost of the vehicles and the fitted systems.
The members of the guards brigade arrived to "Cerovac" for the final phase of the Course, after three weeks of classroom training in their home barracks "Pukovnik Predrag Matanović" in Petrinja which included familiarisation with the technical and tactical characteristics of the vehicle, training with the simulator, evasive driving and the use of the winch. The simulator provides good preparation for the field practice; it can use various programmes, simulate various scenarios and conditions on the road and on the ground, and is particularly useful for young drivers to gain an experience of moving along the roads and in the field, the motion of vehicles and the like.
At Cerovac, the instructors and trainees set down to real-life driving in the field and on the roads. All details of the training system are constantly refreshed and enriched with the recent experience of "Tigrovi" from NATO's Enhanced Forward Presence in Lithuania, where they watched the way the allies completed some tasks and saw room for their own improvement", says 1st Lt Palajsa said.
While it always a worthy motive to see Patrias in action and in "Cerovac" for the first time, our main reason for visit this time was to talk to Private Monika Čižmek of the "Gromovi" Battalion, another female member of the Croatian Armed Forces who broke a prejudice barrier, becoming the first woman to take the training for AMV drivers. "She has been doing very well so far, although she already has some experience driving other vehicles, and she has shown excellent driving skills in this training range, too", says 1st Lt. Palajsa.
"Yes, I'm aware that I've broken the ice, but that is what I wanted", says Pvt Čižmek with a warm smile, sitting in the vehicle where her new duty will take place. Monika, a girl from Sesvetski Kraljevac, was always interested in the military career and in the large vehicles, too, taking a C category licence and driving lorries. Isn't this a bit uncommon for a civilian girl? "Yes, some found it odd, but the people that I am close with got used to it. I have ridden motorbikes for years, so it was easier to get used to lorries, as well; after all, more and more women drive long vehicles nowadays, particularly in Germany and Italy and other western countries".
Monika was a voluntary conscript in 2016 and was admitted to the Croatian Armed Forces a year, havign met the requirements for a lorry driver; she drove TAM-110 and TAM-150. Her father, who served as lorry driver in the Croatian Army during the Homeland War, is well familiar with her duty and her mother is still incredulous about her being comfortable with the military duty. Monika has achieved progress both in her military and driver skills. She was happy to have become a member of the famous "Gromovi" Battalion. Upon learning that she would attend the training for AMV drivers, she was shocked at first and delighted later: "I watched Patrias during the oath-taking ceremony and told my fellows that I wanted to be a driver. It is far less common to meet a woman driving a Patria than a female lorry driver, as operating an AMV is a different skill." Although it is far from easy, Monika is not an absolute beginner – she is skilled at changing tyres and oil and other stuff, as she was much into motorbikes and cars before joining the military.
When she first mounted a Patria, she thought to herself: "Will I be able to do it?" Thanks to her experienced instructors, Staff Sergeant Dražen Grandverger and Sergeant Dubravko Lješčak, as well as the support from the crew – her Commander, driver and weapon station operater, each of whom attended to his own duty working as a team – the anxiety quickly disappeared. The terrain in the training range Cerovac is excellent : "There are asphalt and mud-covered surfaces, climbs and slopes. I really think we can build our skills here, but the decisive element are the instructors".
"We practice according to an established procedure that proved as purposeful, with occasional changes in concept and implementation. "Cerovac" offers realistic conditions for terrain training", says Sergeant Grandverger.
Monika is anxious to obtain her driver's certificate and is looking forward to her first participation in an exercise. She also says she is interested in driving a Patria fitted with a 30-mm weapon station as well as an MRAP M-ATV or a MaxxPro, but she would love to drive a M-84 tank, too. "I am soon taking the exam for E category and will qualify for driving low-loader trailers, hopefully in a mission in Afghanistan, too".
An inevitable question: What is the male colleagues' reaction on seeing a woman driving a lorry and an AMV? What is her relationship with them like?
"We are on excellent terms, to my surprise. I was afraid a bit at first, people react in various ways, but the guys from the 2nd Company – the one I belong to – are fantastic and helped me a lot before the Course, showing me everything about Patrias, so that I took the training well-sensibilised", says Monika..
The first female driver of Patria is instructed personally by Sergeant Lješčak, who commended her skills: "Monika is an excellent driver! Her experience with driving lorries is evident, she has familiarised herself with the dimensions and possesses all the skills required to drive Patria vehicles. I am certain that she will be ready to take on any assigned task! Anyone can become a driver but a Patria driver must be excellently prepared and be in a good physical shape as well."