Visit to members of the 5th HRVCON in Poland
The Chief of the General Staff of the Croatian Armed Forces General Mirko Šundov on 19 December 2019 visited  the members of the 5th  HRVCON to NATO's Enhanced Forward Presence in the Barracks "Bemowo Piskie" in Poland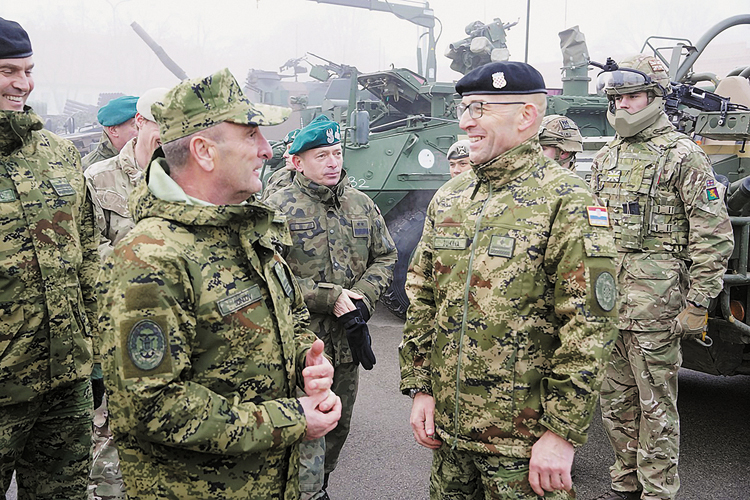 The Chief of the General Staff of the Croatian Armed Forces General Mirko Šundov on 19 December 2019 visited the members of the 5th HRVCON to NATO's Enhanced Forward Presence in the Barracks "Bemowo Piskie" in Poland. General Šundov was accompanied by the Croatian Defence Attache to Poland Colonel Jugoslav Jozić, by the Head of the Personnel Directorate of the General Staff of the Croatian Armed Forces Brigadier General Ivan Zelić and by the Commander of the Guards Armoured Mechanised Brigade of the Croatian Army Brigadier General Mijo Validžić.
THe delegation was welcomed by the 5th HRVCON Commander Major Marijan Žukina and by the Deputy Chief of the General Staff of the Polish Armed Forces Major General Krzysztof Król, by the Commander of the 16th Mechanised Division Major General Krzysztof Radomski, by the Commander of the Battlegroup and commanders of the UK and Romanian contingents.
In the opening presentation the Commander of the 15th Mechanised Brigade Colonel Bogdan Rycerski briefed General Šundov on the history, the mission and the challenges faced by the Brigade. Lieutenant Colonel Mark P. O' Neill (USA) presented the Enhanced Forward Presence and the capabilities of the Battlegroup, and Major Žukina summed up the operation of the 5th HRVCON.
General Šundov underlined the importance of NATO's Enhanced Forward Presence as well as the professionalism and commitment of the 5th HRVCON related to development of interoperability through familiarisation with allied armed forces, as well as the importance of practice for enhanced co-operation and co-ordination, and also emphasised the new NATO trend of culture of readiness.
The Croatian delegation toured the static display of all components of the Battlegroup based in Poland, and attended the mass recited at Bemowo Piskie.
The 5th HRVCON to Poland is one of the four components of the four Battlegroups implementing the concept of Enhanced Forward Presence alongside the US, UK and Romanian soldiers. The Battlegroups are positioned along the eastern flank of NATO – in Lithuania, Latvia, Estonia and Poland, conducting joint training activities to enhance interoperability.
Croatian version: