Vukovar as one of the most disturbing chapters in newer Croatian history; Vukovar as courage, heroism and a sacrifice; Vukovar as the twilight of international community's functioning and effectiveness; Vukovar as a human tragedy; Vukovar as a miracle of resistance and defence not only on a national, but on a global level; however you approach and observe Vukovar, its story remains today, 27 years later, greatly unknown and untold
The killing of 12 police officers in Borovo Selo on 2nd May 1991 marked the beginning of armed conflicts that reached their peak in tightening the circle around Vukovar and in 86 days of difficult battles that preceded the town's fall.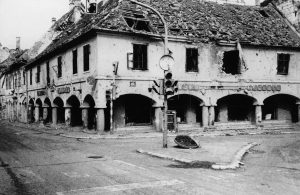 As historian Davor Marijan states in his article "The Battle of Vukovar 1991" (2002), the conquest of the town can be divided into three periods. In the first period, from 2nd May to 25th August, the Yugoslav People's Army relied on surrounding villages with rebelled Serbian population to create a circular basis for upcoming assaults and to take favourable positions. The second phase began on 25th August, when the Yugoslav People' Army, expecting a relatively easy task and supported by the Danube, attempted to occupy the town's barracks and Serbian villages near the town. The third phase began at the end of September, when the Yugoslav People's Army and Serbian forces were faced with failure due to Vukovar defenders' unexpected resistance. During the third phase, Serbian forces engaged extra force and the air force in an attempt to fulfill two tasks: to completely enclose the town and isolate it from the surrounding area, and to occupy the town, which was their main task.
---
We refuse to surrender, we walk proudly, we think of tomorrow. But, when you start walking from here, this street is called Šapudl, across Mitnica to the Trpinj road in Borovo, you will find that a family in each house has gone through a tragedy. In some families, 12 men were killed, in other houses only women were killed. Mothers. You cannot tell about the tragedy which occurred in Vukovar enough times.
Dr Vesna Bosanac, director of the Vukovar Medical Centre and the Vukovar War Hospital
---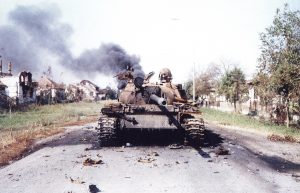 It is considered that open attempts to occupy the town began on 24th August 1991, when the Yugoslav people's Army and the rebelled Serbs launched an attack Borovo naselje and Vukovar, citing a mined barricade that their armoured vehicle clashed into as a motive. The next day, they continued with air raids and land attacks on Borovo naselje and Vukovar, with the Yugoslav People's Army losing ten armoured vehicles. On 27th August, 700 bullets were fired from Serbian villages onto Vukovar and Vukovar's defenders fought back by destroying five enemy armoured vehicles and both ferries at Borovo naselje. At that time, the defenders lacked weapons and ammunition, which, for the most part, was a consequence of a weapons embargo imposed on Croatia by the international community. The lack of weapons and ammunition during the Battle of Vukovar would countless times prove itself to be a deciding, aggravating factor in the effectiveness of the defence. At the same time, the aggressors were reinforced by additional personnel and equipment. Also, from the end of August to the final occupation of Vukovar, Yugoslav Ground Forces on the Borovo naselje-Vukovar line were continually supported by the Yugoslav Air Force.
On 2nd September, a truce which had been agreed on only a few days earlier ended with the Yugoslav People's Army's attacking Vukovar and the village of Berak. The inhabitants of Berak were banished from their homes, while numerous lives were lost. By 5th September, Vukovar was exposed to the most violent attacks to date. Day after day, the attacks grew more vehement as the Yugoslav People's Army, which had believed in a fast and relatively easy occupation of Vukovar, was faced with an unexpectedly tenacious resistance from its defenders.
On 14th and 15th September, Yugoslav people's Army succeeded in cutting off Vukovar form Vinkovci with its violent attacks. For the defenders, the village of Bogdanovci became an important communication channel between Vukovar and the rest of Croatia. On 20th September, Croatian forces broke the blockade on the Nuštar-Marinci-Bogdanovci-Vukovar line, thus securing the provision of the town and its defenders with food and equipment. By the end of September, simultaneously with on-going combat, they established new troops, attempted to strengthen their defensive positions and delivered weapons that were seized after the surrender of the Varaždin Corps. The Vukovar defenders' task was to continue the town's tenacious defence, seize the local army barracks and spread the defence of the city to surrounding villages and dominant natural objects. Simultaneously, the Yugoslav People's Army was strengthening its ranks with new personnel and equipment.
---
It is hard to persuade the participants of the Homeland War to talk about it. They want to forget about it, it is easier that way; trust me, it is easier that way. Take us, the people of Vukovar, as an example. We somehow live by until 18th November, but when that date arrives and the memories overcome us, we are crazy. I am crazy – I admit it, I am not a normal woman those days… That goes on until the commemoration of the Ovčara massacre. Once that commemoration passes, it takes us a few days to get our bearings and everything is fine again… as fine as it can be. Then, 18th November arrives once more, all the memories are evoked… and we are insane again.
Agneza Aleksijević, war scrub nurse at the Vukovar War Hospital
---
At the beginning of October, Serbian forces launched an attack on the Marinci-Bogdanovci-Vukovar road, occupied Marinci and seized control of the Mirkovci-Marinci-Bršadin line. In doing so, they cut off the defenders of Vukovar from an extremely important path of salvation – the Cornfield Road. Simultaneously, they violently attacked Vukovar, but its defenders opposed them and destroyed ten of their armoured vehicles. On the same day, Serbian forces attacked and occupied the village of Cerić. Vehement assaults and the frantic resistance of Vukovar's defenders went on for days. On 4th and 5th October, Croatian forces unsuccessfully attempted to cut their way to Marinci several times. More vain attempts at unblocking the city and breaking out of it followed as moans from Vukovar became louder and louder: exhausted civilian and defenders lacked food and medicine, while the wounded people in Vukovar were in need of an emergency evacuation.
---
It was difficult to organize the work. It was difficult to make a schedule of nurses' shifts because you never knew who would show up for their shift and who would manage to fight their way through the town to the hospital during air raids. Because of that, Doctor Bosanac made the decision that nobody was allowed to leave the hospital from 15th September onwards. Nurses, employees of the hospital, doctors and their children lodged in the hospital shelter from that day on. All of us were in that basement, in impossible conditions, in holes, anywhere we could be. That tiny basement was the space where we did all our work. Three operating theatres, an emergency room, all wounded people, the intensive care unit, children, new-borns, wounded children and the children of the medical staff were all there. They were trapped there for three months, not allowed to go outside.
Binazija Kolesar, head nurse at the Vukovar War Hospital
---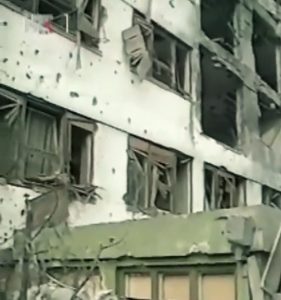 Attempts at delivering help to Vukovar and evacuating the wounded continued. On 13th October, Croatian forces numbered 10 dead and 44 wounded men as well as five destroyed tanks. On 9th and 10th October, 62 people in the town were wounded, of which 29 were members of the Croatian Armed Forces, 26 were civilians and 7 were policemen. Violent attacks on 16th October took the lives of many more defenders, including two commanders: Blago Zadro and Alfred Hill. During a partial evacuation form the Vukovar hospital on 19th October, wounded people were transferred to medical institutions inland. 170 wounded people as well as 70 ill people, pregnant women and new-borns remained in the Vukovar hospital. On 23rd October, during a truce period, the hospital was attacked with 40 rockets. The Independent Aviation Platton Osijek attempted to transfer the necessary resources and medicine to the occupied Vukovar with night flights. Croatian forces needed ammunition for long-range artillery that would have helped them defend the occupied town from a distance. However, they lacked such artillery due to international community's arms embargo. At the end of October, Chief of General Staff of the Yugoslav People's Army Blagoje Adžić visited the barracks in Vukovar, thus lifting the spirits of Serbian soldiers.
At the start of November, enemy tanks and infantry cut Vukovar into two parts. The town's final days were marked by a lack of defence resources and men who could take over the tasks of active defence as well as cries for help. One of the final messages from Vukovar was sent in the early morning hours of 17th November. In it, the commander of Vukovar said that he had lost men and ammunition, while the defence was shattered and standing on its last legs.
---
From a military point of view, it is difficult to understand and comprehend Vukovar's long-standing defence. Its geographical position, the unfavourable ethnic composition of the town's populations and the population of the surrounding areas as well as the respectable force of the Yugoslav People's Army gave it no theoretical chance of resistance. But, that is exactly what happened. The defence of that town is a rare phenomenon not only on a national, but on an international scale.
Davor Marijan, "The Battle of Vukovar 1991" (2002)
---
Vukovar fell after 86 days of difficult combat. 450 defenders and 1350 civilians, of which 86 were children, died in that period. More than 3420 people were injured, of which 570 became permanently disabled. 858 children lost one or both parents.
Wounded and ill people from the Vukovar hospital were tortured and killed. 261 wounded people were taken away, never to be heard from again, while 200 were killed at the Ovčara mass grave. 61 wounded men are still considered to be missing. Bodies of 938 victims were exhumed on the Dubrava cemetery.
The oldest victim was 104 years old.
The youngest one was only six months old.
---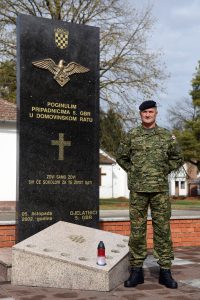 Private First Class Damir Matić is a Combat Armoured Vehicle attendant in the Air Defence Battalion of the Guards Armoured Mechanized Brigade. He was barely of age when war began in his hometown of Vukovar. Prior to that, he had led a carefree life and did not think that a war would occur. When it did occur, he stayed in the town with his parents and his sister. Although unarmed, he participated in the defence – to the best of his abilities. "I was not particularly involved. I did not carry any weapons. I went to the community centre, helped out, kept watch… Actually, I did not really do much. I was too young," Private First Class Matić says. "Bombardment, psychosis, fear, rumours, privation and lack of food were everyday occurrences. However, I was proud to be a part of the whole story." He says he could have left the town, but he did not want to do so. Now, 27 years later, it seems he is not quite sure why he made that decision. He shrugs and says: "I do not know. Perhaps it was a boyish decision. I was not even 18 yet." Imprisonment and a stay at a prisoner's camp followed. "Vukovar fell on 18th November and Borovo naselje followed on 20th/21st November. My father and I were there when the aggressors entered the Borovo complex and started separating people: women and children were placed on one side and men ended up in various place."
Matić spent a month imprisoned in Begejci. Words fail him. It is inappropriate to ask anything. Only fragments of memories escape his mouth and outline a rough sketch of things that ought to be forgotten.
Damir Matić and his father were freed on 21st December 1991 during an exchange of prisoners in Slavonski Šamac. He joined the 5th Guards Brigade in 1995 and returned to Vukovar as a member of the Croatian Armed Forces after the peaceful reintegration of the area. Today, he lives there with his wife and children.
---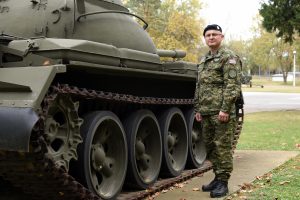 Staff Sergeant Dragan Vidaković is a logistics officer in the Armoured Battalion of the Guards Armoured Mechanized Brigade. He was born in Vukovar; he lived, breathed and defended the town. He will never forget 14th November 1991, he says. It was his twentieth birthday and the men with whom he kept watch gifted him with two boxes of red Marlboro.
He was a member of the Croatian National Guard and held the position in Lužac. "We kept watch and managed to the bets of our abilities. We lacked weapons, so we took turns in using the guns." Days went by, tensions grew and the situation got harder and harder. After the air raid of Silos in August, shooting became a daily occurrence. Positions were lost, regained and lost again. After the great attack on 16th November, the situation worsened on a daily basis. Staff Sergeant Dragan Vidaković broke out of town with a group of men on 17th/18th Noevmeber 1991. It was a long, cold, drizzling night down Boris Kidrič Street, across the Vuka, up a hill, through minefields and cornfields. The men were forced into hiding whenever enemy transporters flashed the pasture they were passing. "They come and flash a light. You hide and wait. When they leave, you move on," Staff Sergeant Vidaković recalls. His group managed to break out and cross the entire path in one night. At dawn, they were in Vinkovci, on the entrance to Mala Bosna.
Staff Sergeant Vidaković is one of the few men who defended Vukovar and are still in the Croatian Armed Forces.
---