Students of Mechanical Engineering Design Best Pilot Training Aircraft for USAF
Students of the Faculty of Mechanical Engineering and Naval Architecture have recently returned from San Diego, where they had an opportunity to present their trainer aircraft FSB-TX Project at the SciTech Forum. They earned an invitation to the event by winning the first place in the Graduate Team category at the American Institute of Aeronautics and Astronautics' student design competition for the academic year 2017/2018. The FSB-TX Project is a pilot training aircraft for pilots who fly on the F-22 and F-35 fighter aircraft and the competition mirrored an actual tender conducted in the United States of America…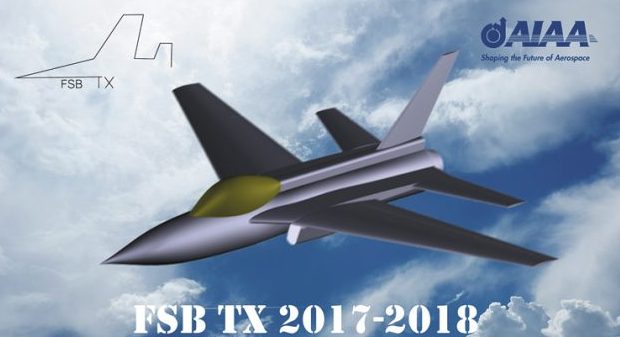 Students of the Faculty of Mechanical Engineering and Naval Architecture have recently returned from San Diego, where they had an opportunity to present their trainer aircraft FSB-TX Project at the SciTech Forum. They earned an invitation to the event by winning the first place in the Graduate Team category at the American Institute of Aeronautics and Astronautics' student design competition for the academic year 2017/2018.
The FSB-TX Project is a pilot training aircraft for pilots who fly on the F-22 and F-35 fighter aircraft and the competition mirrored an actual tender conducted in the United States of America. Along with an invitation to the AIAA SciTech Forum, the student also won a 1,250 USD prize. However, the fact alone that they could present their project in the United States and be introduced to real projects in their branch of studies is worth a lot more to them than the prize money.
They admitted that the competition was tough – nine teams from seven countries had applied for the competition. The Belgian team from the University of Liège came in second, while the Iranian team of the Sharif University of Technology won the third place.
The Croatian team was made up of students of the Faculty of Mechanical Engineering and Naval Architecture who were the first in history to apply to this competition as a part of their course Aircraft Design. This academic year's generation of graduate students is already following in their footsteps and preparing their project for the competition. The students in this story have demonstrated great knowledge and have motivated future generations to continue proving that Croatia had a faculty in which world-renowned engineers are educated, despite not having an aircraft industry.
The winning project was a result of eight-month labour by a team comprised of Fran Delić, Tibor Gašparac, Antonio Golub, Antonio Jurišić, Antonio Klasnić, Ivan Kovačević, Matea Lišnić, Hrvoje Magdić, Kristijan Ruklić and Vjekoslav Sraga. Of course, they were supervised by their mentors from the Faculty of Mechanical Engineering and Naval Architecture: Associate Professor at the Department of Aeronautical Engineering Milan Vrdoljak and Assistant Professor at the Department of Naval Architecture and Ocean Engineering Pero Prebeg.
Knowledge as Greatest Reward
The mentors are pleased with the results because their students showed that they were capable of applying the knowledge acquired during their studies. "Aircraft Design is a course taught in the final year of the Aeronautical Engineering graduate programme. We often make use of the AIAA's competitions as they represent current projects that overlap with the tasks that we give to our students. Last year, the task for the AIAA's competition was to design a training aircraft that would replace the existing aircraft in the United States Armed Forces and we offered our students a chance to submit their project," Professor Vrdoljak explains. He says that it was decided that all ten students in the course would make up one team since the scope of work for an AIAA project is much bigger than intended by the course design.
"The course was challenging. There were ups and downs, of course, but the experience of working in a team is something that they as engineers will certainly need, no matter where they find a job in the future. This course is the crown of theirs studies in Aeronautical Engineering because all the knowledge acquired in other courses comes to the forefront here," Professor Milan Vrdoljak says. When asked how the students were rewarded for the winning project, he smiles and wisely says: "We rewarded them with knowledge!"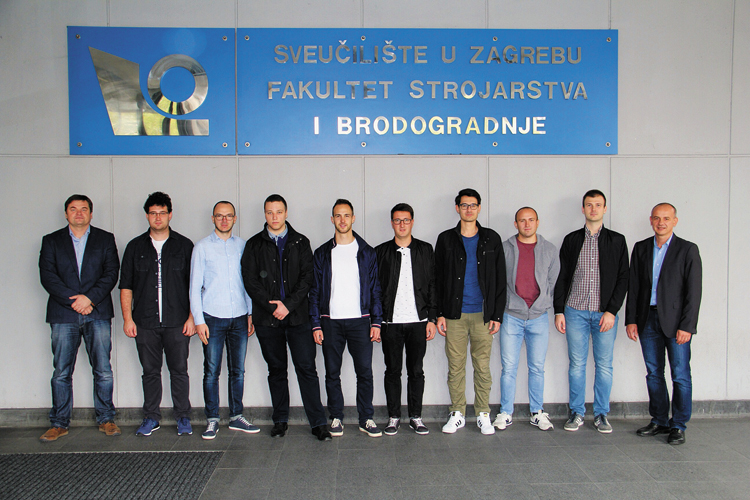 Aircraft Design
Some members of this winning team have already graduated, while others are finishing their studies. We spoke with some members of the team before they travelled to the USA.
Fran Delić opens the story: "In graduate school, there is a two-semester course called Aircraft Design. In the course, we choose an assignment and a mission and have to design an aircraft that is capable of fulfilling that mission. We decided to apply to the competition for a new pilot training aircraft for pilots who fly on the F-22 and F-35 fighter aircraft. The competition mirrors an actual tender in the United States Armed Forces from the same year. Virtually, we designed a new generation of aircraft that the United States Armed Forces will use for pilot training." In other words, the AIAA invited student tenders for aircraft that would replace T-38C Talon as the pilot training aircraft in the United States Armed Forces.
Ivan Kovačević, who has recently graduated and is currently looking for a job, tried to explain how an aircraft is designed. "We look for good and bad qualities in similar aircraft and grade them in relation to our objectives and the purpose of the aircraft. Afterwards, we try to design an aircraft that is as functional and as close to our objectives as possible," Ivan tells us.
Antonio Jurišić, a senior student in the Aeronautical Engineering graduate programme, explains how they were able to meet the requirements for the aircraft (such as the set height, the simulation of air combat, the simulation of fuel transfer, etc.) and some requirements that they had set themselves, on the grounds of which they designed the aircraft. "The project has ten elements. Each person took up one element, but we helped each other out because all elements intertwine and build on one another," Antonio Jurišić stresses. Hrvoje Magdić points out that they regularly sent progress reports to their professor during both semesters, while the AIAA received the final report – a summary of their months-long efforts.
As far as team work is concerned, it has some good and bad sides, the students say. They have known each other since they were freshmen, so they know how each of them functions. "The worst part was harmonizing all elements, attending meetings regularly and co-ordinating this project with our other commitments. Of course, there were some minor quarrels. In such cases, we would consult our mentors or reference works, compromise and, if necessary, vote on certain issues. We think we worked well as a team and the end result proves that," the students say. They thank their mentors, from whom they have learnt a lot and with whom they co-operated on the project well.
Their faculty supported them, as well. They received the AIAA's award at the Faculty of Mechanical Engineering and Naval Architecture's formal session. The Faculty also financially supported their trip to San Diego. "Whatever we asked for, we got it. It is commendable that our faculty gives us an opportunity to realize our projects," Ivan Kovačević concludes. In December, Kovačević presented the winning project at the Ministry of Defence, where the team were received by Deputy Prime Minister and Defence Minister Damir Krstičević. Krstičević and his associates congratulated the team on their big success.
---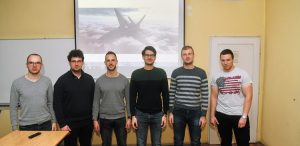 Plans for the Future
During their studies or student training, most of our collocutors have had a chance to make contacts and see what working in an air company is like. They explain that a large number of aeronautical engineers work in mechanical engineering companies because they are tied to their homeland. If they wish to work in the field of aeronautical engineering, they have to look for work outside Croatia. They stress that the AIAA's competition represents what their study programme is intended for and gives weight to it: "Unfortunately, an industry that develops aircraft does not exist in Croatia. In spite of that, we have shown that we have a good faculty and capable experts. We want to use this opportunity to thank everyone who recognized our potential and the potential of this project."
---
Croatian Students Present Their Project at Largest Fair
The AIAA SciTech Forum is an annual conference attended by 3500 representatives of the industry, academia and military sector. The students say that the trip to San Diego gave them an opportunity to not only present their work, but also to see and hear a lot as well as to meet people from their trade. This means that the conference could open up some new possibilities for them.
---
Aircraft Specifications
| | |
| --- | --- |
| Dash speed at 10,973 m | 0.95 M |
| Cruse speed at 10,973 m | 0.7 M |
| Maximum Range at 10,058 m | 2,800 km |
| Maximum Endurance at 10,973 m | 4.4 h |
| Maximum Rate of Climb | 130 m/s |
| Service ceiling | 12,192 m |
| Take-off runway length | 408.69 m |
| Landing runway length | 877.53 m |
| Sustained g at 4,572 m MSL | 8 G |
| Payload | 226.8 kg |
---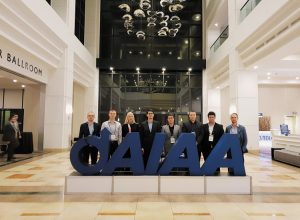 Impressions from San Diego
by Ivan Kovačević, a member of the Faculty of Mechanical Engineering and Naval Architecture's winning team
We presented our project to the Aircraft Design Technical Committee. This is a committee inside the AIAA which invited tenders and which is in charge of grading submitted projects. We were received well and we were all extremely proud of our project and our presentation. We heard various interesting lectures at the conference. One of the lectures was by our colleague Gregor Cvijetić; he and our team were the only representatives of our faculty and Croatia there.
Next to the conference, we also visited most of the sights in San Diego. For us, the most interesting place was the San Diego Air & Space Museum, in front of which a Lockheed A-12 Blackbird is displayed. Among others, a replica of the Spirit of St. Louis, the aircraft used by Charles Lindbergh for the first transatlantic flight, is on display in the museum.
Another interesting place was USS Midway (CV-41), which has been transformed into a museum that depicts life on an aircraft carrier. Likewise, various aircraft which have had the possibility to land on or take off that aircraft carrier are on display there. We stood next to aircraft such as the F/A-18 Super Hornet, the F-14 Tomcat, the F9F Panther, the FJ-3 Fury, the A-5 Vigilante and the A-6 Intruder.
---
Text by PETRA KOSTANJŠAK
Photo by TOMISLAV BRANDT, PRIVATE ALBUM
Translation by IVA GUGO