Ten Years of Croatia's Membership in NATO
Exactly ten years ago, on 1st April 2009, the instruments of Croatia's accession to NATO were filed with the State Department and one of Croatia's long-term foreign-policy goals was realized. In a short time, Croatia has developed small, flexible and mobile armed forces which are prepared to respond to current and future threats together with their allies within NATO…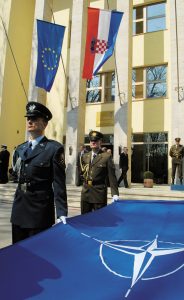 Exactly ten years ago, on 1st April 2009, the instruments of Croatia's accession to NATO were filed with the State Department and one Croatia's long-term foreign-policy goals was realized.
It was an exceptional progress for Croatia; in a short time, it developed from a country receiving international aid to an active participant in providing international aid and contributing to the maintenance of peace and stability worldwide. Since the moment it joined the Alliance, Croatia has been actively participating in its most important activities and missions. Even in this very moment, the members of the Croatian Armed Forces are making a contribution in Afghanistan and Kosovo. Also, Croatia has been participating in NATO's enhanced Forward Presence in Lithuania and Poland since the end of 2017.
Advocate of Expansion
Since becoming a full-fledged member of NATO, Croatia has continually proven to be a dedicated and reliable part of the Alliance. It actively participates in discussions led at NATO Headquarters in Brussels and the decisions reached by consensus there. It directly contributes to the execution of NATO's activities while promoting its own standpoints as well as foreign-policy and national interests as a participant in NATO's group decision-making system.
The first summit in which Croatia participated as a full-fledged member of the North Atlantic Treaty Organization was held in Strasbourg and Kehl on 3rd and 4th April 2009. In 2010, it participated in the drafting of the Alliance's new Strategic Concept, a key document which outlines NATO's main tasks in this decade.
In the last ten years, Croatia has established itself as one of the strongest supporters of a further expansion of NATO to Southeast Europe. The Croatian Armed Forces have been sharing their experience from their accession to NATO with friendly countries in that region. They have been helping them on their journey to Euroatlantic integration by collaborating with them on training and education, participating with them in peace-keeping operations and assisting them as they transform and reform their defence systems. Montenegro joined NATO as its 29th member in 2017, while North Macedonia is at its gate. For years, Croatia has been collaborating with these two countries on military projects, while the members of their armed forces train and prepare for NATO's missions with the members of the Croatian Armed Forces at training ranges in Croatia.
In a short time, Croatia has developed small, flexible and mobile armed forces which are prepared to respond to current and future threats together with their allies within NATO, as Deputy Prime Minister and Defence Minister Damir Krstičević stated on the occasion of the anniversary of Croatia's accession to NATO in previous years. In accordance with the decisions made at summits in Wales in 2014 and in Warsaw in 2016, Croatia has been continuously increasing the defence budget so that it could continue to develop modern, well-equipped and well-trained armed forces which are interoperable with allied and partner armed forces. Such forces are capable of deterring potential security threats and are ready to contribute to international peace and security as well as to provide help to civil institutions.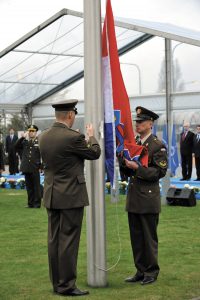 Peace-keeping Missions and Operations
Since the beginning of 2015, the Croatian Armed Forces have been participating in NATO's peace-keeping mission Resolute Support (RS) in Afghanistan, where their main tasks are to train and advise Afghan National Security Forces. Currently, the 10th Croatian Contingent is delopyed there. Mission Resolute Support was preceded by security mission ISAF, in which Croatia began participating in 2003, when a Military Police platoon was deployed to Afghanistan. Security mission ISAF ended in 20014 and the 24th Croatian contingent in ISAF became the 1st Croatian contingent in peace-keeping mission Resolute Support on 1st January 2015.
The 30th Croatian contingent, comprised of 35 members and two helicopters, is currently in Kosovo. The contingents' basic task is to transport KFOR's forces, cargo and VIPs. The Croatian Armed Forces have been participating in this NATO operation since 2009.
Last September, a crew from the Croatian Armed Forces and the RTOP-41 "Vukovar" missile boat were deployed to NATO's maritime security operation Sea Guardian in the Mediterranean. After having joined NATO's forces, the 1st Croatian contingent conducted non-combat tasks the focus of which was to create a comprehensive picture of the situation in the Mediterranean and to achieve common maritime security.
The tenth anniversary of Croatia's accession to NATO will be marked with exercise Immediate Response 19, which will be jointly conducted by the Croatian Armed Forces and the armed forces of Albania, Bosnia and Herzegovina, Montenegro, North Macedonia, Kosovo, Hungary, Italy, Poland, Slovenia, the United Kingdom, France and the United States of America in Croatia. The objective of the exercise is to promote stability, co-operation, the strengthening of capabilities among partner countries and the development of trust through the advancement of the interoperability between NATO and its partner countries.
---
Path to Membership
In 2000, Croatia became a part of NATO's programme Partnership for Peace. Two years later, it was invited to join NATO's Memberships Action Plan. At a summit in Riga in 2006, NATO demonstrated its readiness to welcome candidates that had met the conditions for membership into the Alliance. Croatia received an invitation to join NATO at a summit in Bucharest in April 2008. The path to membership was rounded up by the ratification of accession protocols in the national parliaments of NATO member countries and the filing of Croatia's accession instruments at the State Department, the depository of the North Atlantic Treaty.
---
Text by PETRA KOSTANJŠAK
Photo by ARCHIVE OF THE CROATIAN MILITARY PRESS AND PUBLICATIONS DEPARTMENT
Translation by IVA GUGO