Transfer of Military Technology onto Commercial Helicopters
American-Canadian helicopter manufacturer Bell came to the Adriatic Sea Defense & Aerospace Exhibition and Demonstration (ASDA) with a strong line-up. Among others, it was represented by our collocutors: Duncan Van De Velde, Managing Director for Europe and Russia; Andrea Bryan, International Campaign Manager for Europe, Global Military Sales and Strategy; and Abigail Hernandez, Regional Sales Manager for Southern Europe. The team was "reinforced" by a displayed Bell 505 helicopter.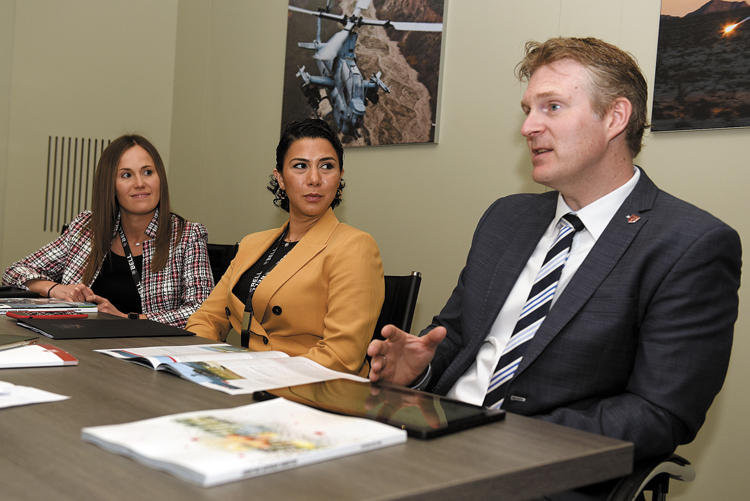 The fact that Bell's aircraft are used by the Croatian Air Force is reason enough for the company's stand at the Spaladium Arena to attract large interest at every edition of the Adriatic Sea Defense & Aerospace Exhibition and Demonstration (ASDA). The company is working on projects that will not be seen in Croatia any time soon, but are nevertheless of interest to every aircraft technology enthusiast. Some of these projects may seem futuristic, but are nevertheless very much in development.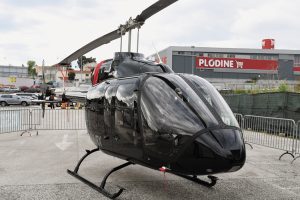 How important is ASDA for Bell?
Van De Velde: ASDA is a very important show for us because people across the region come over to interact with manufacturers like Bell. From a commercial point of view, this is a good opportunity for us to market the Bell 505 training helicopter, which was certified in 2017/2018. From what I have been told, it is the first helicopter to be exhibited at the show and it has been very well received. Of course, we want to talk about other commercial brands from Bell. We are working on the arm solution on the Bell 407 and Bell 429. Many other projects are currently in development. The message that we would like to get across is: we are here to discuss with potential clients everything they need for defence, search-and-rescue or training.
Bryan: The venue at ASDA is small, but it gives us a chance to engage with delegations from Europe and other regions in the world. This is a great opportunity for us to promote the AH-1Z Viper attack helicopter and the UH-1Y Venom utility helicopter. We are primarily focused on those aircraft, since this part of Europe is our target market for them. As for our tiltrotor, the V-22 Osprey, we have talked with customers about the possibilities of procuring it through the Foreign Military Sales (FMS) programme. Other conversation topics have been our future technologies, such as the V-280 Valor, which is a part of the U.S. Army's Future Vertical Lift programme, and the V-247 Vigilant unmanned tiltrotor.
The Bell 206B-3 helicopters arrived to Croatia in 1997. Have you been keeping up with their operational use in the Croatian Armed Forces?
Van De Velde: Absolutely. We have established a good relationship with the Croatian Ministry of Defence in the maintenance of the Bell 206. If a country has an ageing fleet of aircraft, it makes sense to bring to the table a certified, state-of-the-art technology can be used in the upcoming decades. We are also supportive of the off-the-market side of the business – procuring parts and bringing in solutions which will extend the life cycle of the helicopter fleet in operational use in Croatia.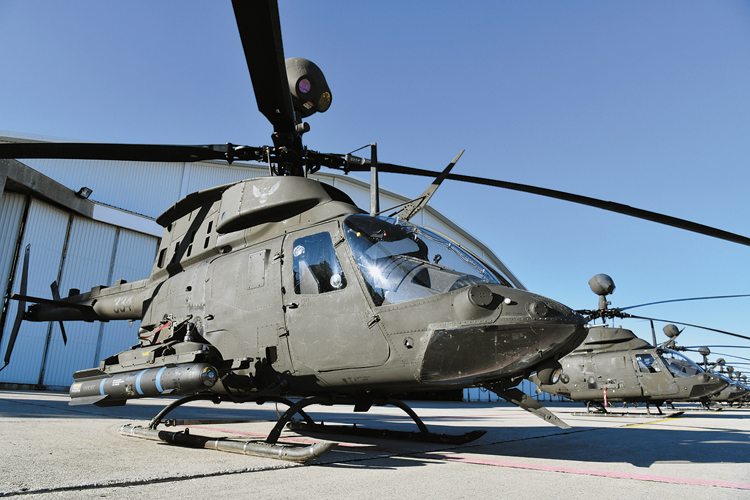 How do you envision the future of the Kiowa Warrior OH-58D?
Van De Velde: Its future is in the hands of Croatian Ministry of Defence; it is up to them to decide what they want to do with it. The only thing that I can say from Bell's perspective is that we can do everything needed in order to extend its life cycle and maintain a high durability level. We are an American-Canadian company, but we are actively investing in Europe. We are growing our footprint in Europe so that we are able to support our customers 24/7, wherever they may be. We have a huge parts warehouse in Amsterdam that I like to call "a mini Fort Worth". We also have a maintenance, repair and overhaul (MRO) facility in Prague.
What are some novelties in your business transactions with Croatia's neighbouring countries?
Hernandez: We are growing our footprint in Southeast Europe. We delivered three Bell 412 helicopters to Montenegro last year and are continuing to equip them with further Bell aircraft. We are hoping to spread our products across the region.
Van De Velde: A few days ago, the Montenegrin Minister of Defence expressed his satisfaction with the Bell 412 helicopters, the support received from Bell and the co-operation between our company and his defence team. Bell is growing its footprint not only in Southeast Europe, but in all of Europe. It will be mind-blowing to see what will be happening in this region in the upcoming years. We are looking forward to that.
Are you developing any new aircraft, successors to the ones currently in operational use in Europe?
Van De Velde: We are constantly developing new products. After developing and certifying the Bell 505, we are working on a medium-sized helicopter, the Bell 525 – the first aircraft to be used for commercial flights using fly-by-wire flight controls. Its development is unique: we are using military technology and transferring it onto a commercial helicopter. That is the power of Bell: we work closely with the military and implement lessons learnt in that domain in commercial projects. The Bell 525 will be certified by the Federal Aviation Administration (FAA) in 2019 and the European Union Aviation Safety Agency (EASA) in 2020.
Will there be any new deliveries of the Bell AH-1Z Viper and the Bell UH-1Y Venom? Will you develop any new variants of your most famous helicopters?
Bryan: Just recently, we completed a contract with Bahrain for the manufacture and delivery of twelve Bell AH-1Z aircraft. Currently, we are involved in a negotiation process with the Czech Republic and we have many more opportunities opening up across the globe.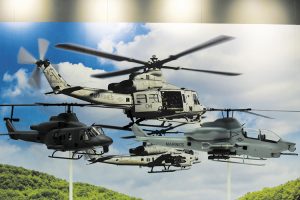 Do you think that armed forces' desire for greater versatility in helicopters is realistic? Are they not asking for too much in their effort to save money?
Van De Velde: We design helicopters so that they can meet any client requirement. Take the Bell 505 as an example. It is both a training helicopter and a utility helicopter. It is used by the police in New York City. The Bell 409 is being used on every platform imaginable. We offer products on the market that meet governments' needs. But, they need to be smart and carefully review if the platform they are buying meets their mission requirements now and in the future.
Bryan: Bell's commercial and military lines are very diverse. You can start with a great training helicopter like the Bell 505 and transition to the Bell UH-1Y and AH-1Z helicopters. Combat multi-role aircraft are purpose-built military aircraft. From ground up, they are fully equipped with the most advanced sight systems and all the weapons systems available on the market. For this reason, they appeal to a lot of customers and many militaries in Europe operate with them. Having a dedicated attack platform gives one the flexibility to conduct attack-specific missions without putting troops in harm's way. Although these two aircraft can stand alone, their distinctive feature is the possibility of building a mixed fleet by combining them with other platforms. Through this, the client can acquire a full spectrum of military operational capabilities and reduce life-cycle costs. As many as 85% of these aircraft's parts and components (engines, the rotor cup, the tailbone, etc.) are the same. Even the front and back of their cockpits are the same, so it makes sense to procure both platforms simultaneously. The similarities between these two aircraft allow the dual training of pilots and maintenance crews, as well.
Has the V-22 Osprey consolidated the status of the tiltrotor as an aircraft usable for both military and civil purposes? Is Bell preparing to introduce any novelties to it or are you focused on the Bell V-280 Valor?
Bryan: The V-22 Osprey is still in production. We have sold it to Japan and we have some other options of offering it for sale through the FMS programme. The V-22 is a highly capable aircraft which fulfils a specific mission for customers: it flies like a helicopter, but also has the speed and range of a fixed wing. It is one of the most in-demand aircraft in the U.S. Marine Corps' inventory and we have accumulated over 450,000 flight hours on it. Many lessons learnt during the development of the V-22 Osprey are being applied to future aircraft such as the V-280. Although our primary focus is currently not on our commercial line, we are still involved in the development of the BA609.
How is the Valor developing?
Bryan: It is going quite well. We have been flying it for 14 months. We have accumulated over 190 flight hours on it and have already reached the speed of 280 knots on it. The Valor is smaller than the V-22, but it is the same size as the Sikorsky UH-60, which is one of the requirements put forward by the U.S. Army.
Other companies are having problems with tiltrotors. It seems like only Bell has developed it in full operational capability.
Van De Velde: Well, we have invented the tiltrotor, so it makes sense that we have fully developed it. (laughs)
Bryan: We have had decades to work its development. It is what makes us stand out on the market.
In early 2016, Bell's President and CEO Mitch Snyder stated that he did not see Bell's future in classic helicopters. Does your company maintain that opinion?
Van De Velde: I believe this is a reference to the Nexus, the future of unmanned mobility. We are all witnesses to increased traffic on the roads. There needs to be a solution to this problem. We are investing heavily in unmanned vehicles and alternative mobility options. One of these options is the Nexus, which will be flying a few years from now. We need to be focused on the future and what it has to bring to unmanned vehicles, but also continue developing helicopters and investing in them. One thing we all agree on is that there is a bright future ahead for helicopters.
When do you expect to develop the first prototype of the Nexus? When will its first flight take place?
Van De Velde: The development of the Nexus is on-going. I cannot say when it will fly. I have heard it might take off sometime in the next five years, but that has not been confirmed. We were at the HAI HELI-EXPO in Atlanta, Georgia with a mock-up of it March.
Which unmanned aircraft development projects are in fact on-going? Will the Bell V-247 Vigilant stay on the level of a concept?
Bryan: The Bell V-247 Vigilant is a part of our tiltrotor technology. Engineering and designing with a digital thread has allowed us to make use of lessons learnt across all of our lines much more easily. We take lessons learnt out of our commercial line and apply them to the military line. We use the lessons learnt from the development of the V-22 Osprey to develop the V-80 Valor and the V-247. The development of the Vigilant is on-going and we expect that our customers will make further requirements for it.
Interview by DOMAGOJ VLAHOVIĆ
Photo by MLADEN ČOBANOVIĆ