"We are here to share the joy of victory with Vukovar"
Sailing on the patrol boat "Šokadija" (OB-93), a crew of 11 set sail from the Barracks"Vrbik" in Osijek on 4 August 2020 and after a 12-hour navigation along Drava and the state border on the Danube arrived to Vukovar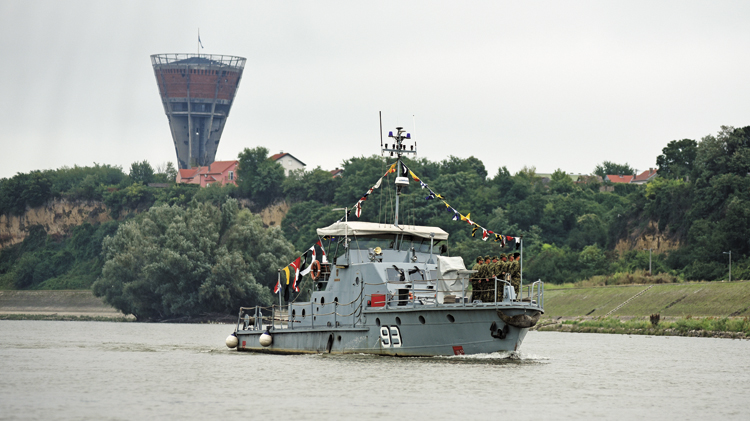 Marking 5 August – the Victory and Homeland Gratitude Day and Croatian Defenders Day – the 11-crew of the River Flotilla Company of the Engineer Regiment of the Croatian Army set sail aboard the Patrol Boat "Šokadija" (OB-93) from the Barracks "Vrbik" in Osijek on 4 August. During a 12-hour voyage the boat sailed for 150 km along the river Drava and the state border along the Danube, passing by Batina, Aljmaš, Erdut and Dalj. Passing by the Memorial Cross on the confluence of Vuka into the Danube in Vukovar the crew manned the rails aboard the decorated boat paying respects to the heroic town of Vukovar.
Next voyage to honour Vukovar
The Commander of the Patrol Boat "Šokadija", Lieutenant Junior Grade Hrvoje Milković stated: "We came to Vukovar to pay our respects to the victims of the Homeland War and to share the joy of the victory with Vukovar and its residents. We are glad to have had the opportunity to join the marking of the 25th anniversary of the Operation "Storm", and announced a new voyage to be undertaken from 17 to 19 November 2020 on the occasion of the Vukovar Remembrance Day The 2020 activities planned for the patrol boat "Šokadija" to mark the Victory and Homeland Gratitude Day have been carried out in accordance with protective measures and responsible behaviour appeals for the COVID-19 pandemic.
Training procedures executed along the navigable waterway Drava – Danube
The days-long voyage from Osijek to Vukovar was also an opportunity to practice regular procedures of the patrol boat "Šokadija" along the Drava – Danube waterway – two combat alerts in blackout conditions, a firefighting exercise and a simulated engine failure exercise. The execution displayed excellent skills, proper equippendess, trainedness and high motivation of all crew members.
A warship equipped with air defence gun
The Patrol Boat "Šokadija" (OB-93) is a warship built in 1953, and belongs to the River Flotilla Company. The Boat is 21 m long and has a beam of 4.65 m at the widest point. The draught without load is 1 m, and the displacement of a fully loaded boat is 48 t. It has two Torpedo B536RM engines (140 HP), an auxiliary engine IMR Rakovica with 34 HP and a 3 x 400 W power unit, feeding electricity to all appliances. The Patrol Boat has a crew of 10 and is equipped with a 20-mm air defence gun.